'Super Smash Bros.' Fanart: 'Smash' fighters have been reimagined as bears and it's pretty glorious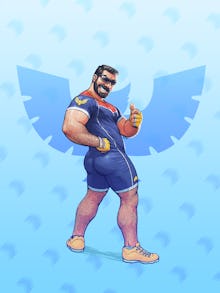 I've been around Tumblr long enough to know that if there's a fandom, there's going to be strange fanart that comes from it. At first blush, this Super Smash Bros. fanart is that kind of "Tumblr Weird." But let me tell you, these "Bearsionated" Smash Bros. bears by Leo Leus are everything I didn't know I needed until now.
And, in true Mic fashion, let's examine each of these huggable Smash Bros. bears.
Super Smash Bros. Fanart: Mario
Mario's not just shirtless — he's tatted up and looking tough. He's the kind of bear who'd be growly on the outside, but would curl up next to you in bed and snuggle in like an actual teddy bear. I see you, Mario. You're too fluffy to be aggro for long.
Super Smash Bros. Fanart: Luigi
Luigi is lightly tattooed, especially in comparison to his brother, but he sure as sugar isn't wearing a whole lot. What we have here is the quintessential bear leaning out of the window of the Pumpjack Pub on Davie Street in Vancouver: winking at the boys as they walk by and offering to buy drinks for the cutest ones.
(Not crazy about the boots, though. Take a cue from your bro on this, Luigi.)
Super Smash Bros. Fanart: Donkey Kong
We can't skip a mainstay character of the Nintendo universe: Donkey Kong. Everyone's favorite gorilla is now a bear! And he couldn't be more adorable in his banana-printed undies. I bet he'd give the best hugs ever.
Super Smash Bros. Fanart: Link from The Legend of Zelda
I think that Link's bear-state is probably my favorite of the bunch. I've known dudes to dress like this, but none had a sweet Hylian crest inscribed on his chest. There's something so approachable about this version of Link. I wouldn't mind sitting on a beach somewhere and drinking beer with him — while away the afternoon talking about birds and his quest to save Hyrule.
Super Smash Bros. Fanart: Yoshi
Yoshi is without a doubt my favorite Mario Bros. character. His soft, woolly amiibo occupies a special place in my office. He's usually my go-to in Mario Kart. And this hairy cutie (with a daisy tattoo on his knee, no less) would be the kind of guy to go dancing until three o'clock in the morning and then curl up to watch the sunrise on a park bench, hand in hand.
Super Smash Bros. Fanart: Jigglypuff from Pokémon
Jigglypuff should be singing you to sleep, but who can sleep when the lullaby borders on death metal? (Or maybe Jiggly's paying tribute to Babymetal, in which case, carry on.) There is absolutely no criticism I can make about his fantastic ensemble. I would headbang in the audience at his concert. Sing on, Jiggly. You're beyond fab.
You can view the rest of the Smash Bros. "bearsionated" collection on Tumblr. Thank you, dear Leo. Thank you for gifting the world with this bear-y beautiful fanart.
More Super Smash Bros. coverage
Learn more about Super Smash Bros 4 on the Nintendo Switch, including Nintendo's president confirming the game, what the new amiibo could mean for the series and why you may have to wait until 2018. Here's why we could see new characters added to the roster (yes, including Rayman) and all the other games like Smash Bros that Nintendo hasn't confirmed that we can probably expect.