Vatican responds to 'AP' report that cost cutting at "pope's hospital" endangered children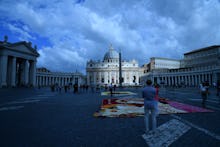 Vatican officials have responded to an Associated Press report published Monday that officials at Bambino Gesu Pediatric Hospital, a famous hospital in Vatican City known as the "pope's hospital" employed dangerous cost-cutting methods that may have put children at risk.
Though the official, Cardinal Pietro Parolin, maintained that some of the allegations in the report were "unfounded," he also said in a statement to the AP on Tuesday that "there is currently an attempt and serious effort to resolve," some of the problems identified in the AP's report. On Monday, officials at Bambino Gesu had called the AP report a "hoax" and threatened legal action.
"Associated Press has published today a report on the Bambino Gesù Children's Hospital, containing false, outdated and severely defamatory accusations, which had already been disproved and expressly overturned by an independent report of the Holy See," a hospital spokesman said in an email to Mic. "The report that AP mentions as its source, is not the result of an official investigation, nor of an actual investigation, in fact it only collects various accusations brought by a group of current and former staff members."
The investigation alleges that the administration that controlled the hospital between 2008 and 2015 allowed overcrowding and sometimes unsanitary conditions at the hospital, which may have contributed to a 21-month bacterial outbreak that killed eight children. Surgeons also reportedly were pressured to pull children out of anesthesia too early in an attempt to speed up turnaround times. With the exception of one of the report's claims, "inadequate space in the clinical care areas," the hospital denies all these accusations.
"No hospital is perfect," Vatican spokesman Greg Burke told the AP. "But it is false and unjust to suggest that there are serious threats to the health of children at Bambino Gesu."
According to the AP, the Vatican has conducted two secret investigations into the conditions at the hospital in response to complaints from employees that cost-cutting put children in danger. And back in December 2016, Pope Francis himself seemed to criticize hospital officials for making the hospital too much like a business: "Bambino Gesu has had a history that hasn't always been good," the Pope said, reportedly abandoning his prepared remarks.
Though it is financed by Italian taxpayer money, the hospital is located in Vatican City, outside of the reach of regulators and public health officials.
It's the second time in a matter of days that the hospital has been in the news. On Tuesday, hospital officials told CNN that it was in contact with the parents of Charlie Gard, a 10-month-old terminal child in the United Kingdom, where hospital officials have requested to take the child off life-support. That decision has spawned an international controversy, with President Donald Trump tweeting about the case on Monday.
Wednesday, July 5, 12:03 p.m.: This story has been updated.