'Hot Mic' podcast: North Korean missile launch, Voter fraud commission, Hot dog eating contest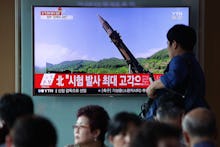 Listen and subscribe to the Hot Mic podcast from your mobile device:
Here are the important stories to get you caught up for Wednesday, July 5:
1. North Korea claims to have launched an intercontinental ballistic missile capable of hitting any part of the world, but officials are skeptical.
2. Forty-four states have rejected the White House's request to turn over information on voters to its commission on voter fraud.
3. Joey Chestnut won his 10th title in Nathan's Famous Hot Dog Eating Contest, eating a record 72 hotdogs.
Direct from Mic's newsroom, Hot Mic keeps listeners informed with a daily run-down of top stories, breaking news and analysis from our news team.