North Korea celebrates ICBM, promises more missile launches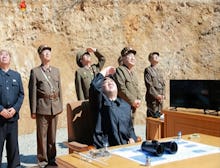 North Korean leader Kim Jong Un is reportedly promising more missile launches after North Korea launched the country's first intercontinental ballistic missile this week, igniting a global crisis and prompting responses from South Korea and the U.S..
North Korea announced Tuesday that it had successfully tested an ICBM in what is widely seen as a major step forward for the country's nuclear program. The Associated Press reported Wednesday that North Korean state media was celebrating the launch.
The country's state media reportedly described Kim's "broad smile" as he cheered on nuclear scientists to "frequently send big and small 'gift packages' to the Yankees," according to the AP.
North Korean state media allegedly reported Wednesday that Kim "stressed that the protracted showdown with the U.S. imperialists has reached its final phase and it is the time for the DPRK to demonstrate its mettle to the U.S., which is testing its will in defiance of its warning."
North Korea also reportedly celebrated the fact that its missile launch was conducted on July 4, as Americans celebrated Independence Day.
The U.S. and South Korea responded to Tuesday's news of an ICBM launch by firing missiles into South Korean waters as a show of force.
In a statement released on Tuesday, Secretary of State Rex Tillerson confirmed that the missile launched by North Korea was indeed intercontinental. The AP reported that, according to one U.S. scientists, the missile North Korea tested could potentially reach Alaska.
According to the AP, the development and launch of an ICBM is seen by many as a turning point for North Korea's nuclear capabilities, after which it will "only be a matter of time" before the country develops weapons capable of reaching the entire U.S., unless interventions prevent that from happening.