New York City police officer killed in "unprovoked attack"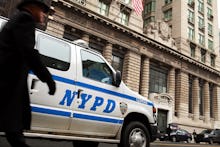 A New York City police officer was shot and killed on Wednesday in what New York Police Department officials called an "unprovoked attack," ABC News reported.
Officer Miosotis Familia, 48, a 12-year veteran of the NYPD, was reportedly sitting in a marked police van when the suspect approached and fired shots through the van's window. Familia was taken to a Bronx hospital, where she later died.
A bystander was also shot and hospitalized, ABC News reported, but the injuries are reportedly not life threatening. Familia's partner was also in the van and was not injured, according to police.
The suspect was identified as Alexander Bonds, 34, CNN reported. Bonds reportedly drew a revolver when he was confronted by officers. He was shot and killed by police a block away. Police say there are no other suspects, according to ABC News.
Familia was an officer with the 46th precinct's anti-crime unit. The van in which she was sitting at the time of the attack had been parked in the neighborhood since March, ABC News reported.
Speaking at a press conference at the hospital where Familia was taken, New York City police commissioner James O'Neill said, "It is clear this was an unprovoked attack on police officers who were assigned to keep the people of this great city safe. ... She was sitting in the vehicle and he came up and fired a round into the vehicle. I don't know if anything else could be more unprovoked than that."