A documentary filmmaker is suing James Deen for allegedly sabotaging her doc about him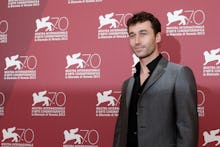 Porn actor James Deen has allegedly concocted an underhanded scheme to make sure a documentary about the sexual assault allegations against him never sees the light of day.
According to Variety, the woman behind the documentary, filmmaker Maria Demopoulos, is suing Deen for allegedly stealing signed releases from her producer's office, preventing her from airing the film on Showtime or screening it at film festivals.
Demopoulos had been working on the film long before anyone leveled any allegations against Deen, which meant its first cut didn't include any reference to the accusations. But after Deen's ex-girlfriend Stoya and multiple other adult performers went public with sexual assault allegations against Deen in November and December 2015, Demopoulos' producer and a Showtime executive agreed the documentary should include mention of the allegations.
Demopoulos re-interviewed many of her subjects and tracked down Deen's accusers to make a re-cut version of the documentary, which she completed in early 2016. At the time, she screened the documentary for producers and Deen, who allegedly requested some small changes be made to it. Variety reported the porn actor had an otherwise "positive" reaction to the documentary overall.
But months later, the actor reappeared at the producer's office, allegedly asking a post-production assistant for access to the footage. When she refused, Deen allegedly got hold of Demopoulos' binder of releases and walked out.
Demopoulos said Deen's every move was captured on security footage, which will corroborate her claims.
Deen's career has suffered few consequences as a result of the sexual assault allegations detailed in Demopoulos' documentary.
San Francisco-based porn studio Kink.com cut ties with Deen following Stoya's account of Deen sexually assault her while they were dating. Other than that, Deen seemed to continue with his life as though nothing were different, appearing at an Adult Entertainment Expo in Las Vegas just months after the allegations surfaced, schmoozing with reporters and taking photos with fans.
In the year after Stoya went public with her accusations, Deen racked up 29 award nominations, all for films he made in that time.
"Very little has changed in James' life over the last year," Howard Bragman, Deen's spokesman, told Vocativ in November. "He is not subject to any cases either criminal or civil, and he is continuing the same work he did before in the entertainment industry." 
But if Demopoulos has her way, she'll be able to not only give the sexual assault allegations against Deen more air time, but take the actor to court for "fraud, conversion and breach of fiduciary duty" — plus the $150,000 she says Deen rightfully owes her.
Deen, though, isn't going to go down without a fight.
"These are my binders," Deen reportedly wrote in an email. "They will stay with me. I also will be picking up copies of the footage as soon as the[y] are able to transport it onto drives."