SNES Classic Preorder: Sorry scalpers, Amazon's changing orders for those who bought multiple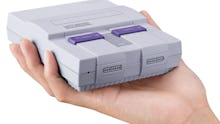 SNES Classic preorders may not have opened up in the United States as of yet, but that hasn't stopped many from buying the console. With limited edition devices like Nintendo's SNES Mini, many take to buying more than one at a time to make a quick buck. But not if retailers have anything to say about it.
SNES Classic Preorders: Scalpers beware — Amazon and others reducing orders of multiple
The latest from the Independent notes that those selling SNES Classic preorders like Amazon and the U.K.'s Game have started to reign in how many units buyers can purchase at one time. Those who snagged multiple of the re-released retro console have seen their orders reduced to just one.
According to an email received by said buyers, Amazon says there has been "a change to the availability of this item. ... We understand this isn't what you expected when you placed your order and apologize for the inconvenience."
Though some of us will be buying the mini console for friends and family (potentially for the holidays), this measure will help keep SNES Minis from being scalped on eBay in droves. It's hard out here for a scalper.
SNES Classic preorders: Does this mean more supply for the U.S.?
Not quite. The U.K. version of the SNES Classic, currently available for preorder, and the U.S. version are different devices. While the rest of the world gets its own supply, the United States will receive the gray and purple console. Meaning changes to their supply likely won't affect what we can buy.
We may, however, see North American retailers enact similar rules. Scalping was a huge problem for the NES Classic and we're getting déjà vu with the SNES Mini.
Check out more Nintendo news and coverage
Looking for more Nintendo Switch news? Check out how blind gamers are using the Nintendo Switch and why you can't get your Mii to look quite like you. Nintendo's left Joy-Con issue turns out to be a hardware problem — here's how to solve it. Find out how to buy a console amid the recent restock. Learn why the Switch cartridges taste so bad. Check out our comparison photos sizing up the Switch to the Wii U GamePad (part one and part two), or find out how to make use of ethernet without the dock and the best way to get alerts when new stock arrives.