Senate Republicans avoid July 4 parades — and their constituents — amid health care debate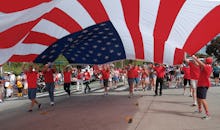 Marching in local July 4 parades is a tradition for members of Congress, who use the holiday to show their constituents that they are part of the communities they represent.
But this July 4, a number of Senate Republicans sat out the festivities, deciding instead to lay low amid a fierce debate over the GOP's health care plan that's unpopular among voters in every state in the country.
Sen. Shelley Moore Capito (R-W.Va.) didn't march in any July 4 parades in her home state, which voted for President Donald Trump by a 42-point margin, according to the New York Times. However, her Democratic colleague Joe Manchin, one of the most vulnerable Senate Democrats up for re-election in 2018, did choose to march.
Also missing from home-state July 4 parades were Iowa GOP Sens. Chuck Grassley and Joni Ernst, Colorado Republican Sen. Cory Gardner and Ohio GOP Sen. Rob Portman, the New York Times reported.
Republican senators who did march in parades were met by voters angry over the health care bill — which the non-partisan Congressional Budget Office estimates will lead 22 million people to lose coverage.
Sen. Ted Cruz (R-Texas) was greeted by protesters at a July 4 event in McAllen, a town located on the state's border with Mexico.
"Ted wants us dead," one protester's sign read, according to the Texas Tribune.
"Isn't freedom wonderful?" Cruz said, referring to the protesters, according to the Texas Tribune. "Think about it: In much of the world, if protesters showed up, they would face violent government oppression. In America, we've got something different."
Sen. Susan Collins (R-Maine) — one of the Republican senators most vocal about her opposition to the GOP's bill — said voters thanked her for standing up to the legislation proposed by her Republican colleagues.
"There was only one issue. That's unusual. It's usually a wide range of issues," Collins told the Washington Post after marching in a parade in a rural area of her state. "I heard, over and over again, encouragement for my stand against the current version of the Senate and House health care bills. People were thanking me, over and over again. 'Thank you, Susan!' 'Stay strong, Susan!'"
Senate Republicans are still working on crafting a plan to make good on their promise to repeal and replace the Affordable Care Act, better known as Obamacare. One version of the bill that Senate Majority Leader Mitch McConnell submitted for CBO analysis contains changes, crafted by Cruz, that would essentially create high-risk pools for Americans with pre-existing conditions.
It's unclear whether that plan will be put up for a vote when Congress returns to Washington, D.C., on Monday.