Swedish comedian proposes "man-free" music festival in response to recent rape reports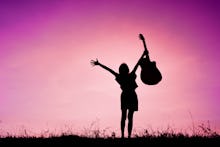 One clever Swede has a simple solution to men's apparent inability to behave themselves at music festivals: ban men.
Comedian Emma Knyckare has proposed a "man-free" music festival, according to the BBC. Her idea comes in direct response to the recent cancellation of Sweden's Bråvalla music festival for 2018, after this year's event generated a spate of sexual assault and rape reports. The organizers pinned their decision explicitly on men who "apparently cannot behave."
"What do you think about putting together a really cool festival where only non-men are welcome?" Knyckare tweeted, adding that the entrance policy could be reconsidered once "all men have learned how one behaves."
Bråvalla 2017 saw dozens of sexual abuse reports: four rape allegations and 23 allegations of sexual assault. In 2016, police fielded five rape reports and 12 sexual assault reports from the festival. The persistence of misconduct prompted Folkert Koopmans, CEO of FKP Scorpio, the German production company behind Bråvalla, to declare, "I've had it!"
"Violence kills the festival experience and the love for music, and — first and foremost: People are getting hurt," he said in a statement posted to the festival's website. "One is one too much!"
The problem of sexual assault is not exclusive to Swedish music festivals — it happens at festivals worldwide, with producers apparently flummoxed about how to better police their events — nor is the idea of banning men from concert grounds.
In 2016, the United Kingdom's Glastonbury launched The Sisterhood, a subset of its annual festival that welcomed anyone who identified as a woman. The Sisterhood aimed to improve on Michigan's long-running Womyn's Music Festival, which may have been felled by its failure to include transgender women. Then there's Lilith Fair, the traveling concert series of the nineties that featured female performers. Lilith Fair did not bar men from entrance, but it was certainly woman — and acoustic guitar — centric.
Knyckare reportedly plans to hold her man-free festival in summer 2018, and has headed off the cries of reverse discrimination typically aimed at events from which men are banned.
"Since it seems to be OK to discriminate against women all the time, maybe it's OK to shut out men for three days?" she told the Aftonbladet, according to the BBC's translation. "I would not exactly call it an abuse not to come to the festival."