Chance the Rapper's Tiny Desk Concert set showcases the best of his casual, heartfelt hip-hop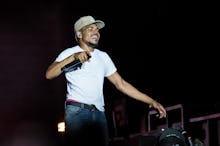 Chance the Rapper was born to play NPR's Tiny Desk. Every time the philanthropic Chicago MC takes a stage, he seems to shrink it. Credit his disarming humor, his openhearted banter and the improvisational soul-driven hip-hop that his band moves through so fluidly. There's a real intimate, familial feeling that his crew is able to conjure together onstage — precisely the kind NPR's cute, in-office concert series Tiny Desk is designed to create.
Wednesday morning, the world finally saw Chance get his opportunity to take one of the internet's quirkiest stages. The 13-minute set features his Coloring Book hit "Juke Jam," a cover of Stevie Wonder's "They Won't Go When I Go" and a new poem he wrote in black marker while traveling from his hotel to the NPR offices, titled "The Other Side." It's a bite-sized, feel-good broadcast that showcases some of the best aspects of Chance's showmanship.
"I still have keys that are of no use to me," Chance began his poem, an alternate vision of his conversational and colorful lyricism. "They used to, though. On the other side was a mansion on a hill, complete with L.A. pools and fireplaces and a rim made specifically for people that lie about being six feet to dunk on."
In a hiccup to be expected from a desk-side concert, an announcement over the loudspeaker interrupts Chance's recitation. "He's like, 'Shut the fuck up! No more poetry!'" the rapper joked, rolling with the punches seamlessly.
The only part of Chance's repertoire that doesn't get any play in the set are his lightening-quick juke numbers or his tongue-twisting pop anthems. Those admittedly wouldn't work as well in a cramped office. But as with former Tiny Desk performances, from high-energy acts like Run the Jewels, Anderson .Paak and the Free Nationals or Tank and the Bangas — whom Chance the Rapper shouts out while describing himself as a Tiny Desk fan boy — anything is possible.
Chance stuck to the basics, and in the process showed why he's one of the most impressive and important names in live hip-hop. View the full video via NPR here.
Mic has ongoing music coverage. Follow our main music hub here.