The SNES Classic shouldn't be a stopgap for Nintendo's Switch Virtual Console plans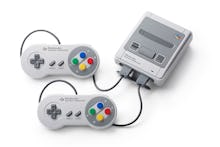 When items like the SNES Classic are announced, we can't help but think of the Nintendo Switch virtual console. While Nintendo's Wii U and 3DS allow gamers to play old-school games right on the device, the Switch continues to lack any NES, N64 or Game Boy titles.
According to Nintendo, however, the Virtual Console is already on its way in 2017, in the form of its released 90's console.
Nintendo says the SNES Classic is a Virtual Console of sorts — and we're worried
In a meeting with shareholders, Nintendo's senior executive officer, Satoshi Yamato, was asked about making the Virtual Console's Game Boy Advance games available via retail. His response was this:
We have been thinking about a lot of different ways to make use of Virtual Console titles, and not just Game Boy Advance titles. Similar to these software titles we have made available on a variety of platforms over the internet, we consider the Nintendo Classic Mini: Super Famicom (to be sold as Super Nintendo Entertainment System: Super NES Classic Edition in the U.S.), scheduled to be launched in Japan this October (and September overseas) to be a type of Virtual Console. It would be possible to sell these titles as packaged software or via download cards, but if we were to start selling products like this in the future, I think we would first have to consider whether we can establish that kind of business model, and do our due diligence in finding out if there is sufficient demand for it.
It's easy to see why releasing old games in a device like the NES Classic or SNES Mini could be considered as part of Nintendo's Virtual Console strategy. But we're concerned that this is going to lead Nintendo to decide not to release NES and SNES games on the Nintendo Switch.
On the one hand, it seems shareholders are anxious to get a Game Boy Advance Classic console. But it's worth pointing out that the mini consoles are not "virtual" consoles — they're physical consoles, albeit miniaturized.
Mini versions of old consoles are a fun novelty and a clever stocking-stuffer, but they don't beat the convenience of having retro games available on devices we already own — whether that be the Switch, the Wii U and 3DS or even the iPhone.
The only thing better than paying $80 to play Star Fox 2 on the SNES Mini is paying $25 (or so) for the game on a device we already own. The magic of the Virtual Console is that it's just that: virtual.
Nintendo's Netflix-like service for old games is coming, but will it include the NES and SNES Classic library?
It's not all bad news. Nintendo is on the right track with their $20-per-year subscription service. Select titles will be made available for download to those who pay. And with the NES and SNES Classic being released as limited edition consoles, odds are Nintendo isn't worried about cannibalizing sales if those games lived on the Virtual Console too.
Nintendo has yet to offer explicit details of what games we can expect on the Netflix-like service — only Super Mario Bros. 3, Balloon Fight and Dr. Mario at the moment. So, we're cautiously optimistic.
Old games come to the 3DS and Wii U often, but Nintendo is taking their sweet time and acting very methodically when it comes to the retro titles on the Switch. It's in Nintendo's best interest for them to bring fans a proper Virtual Console, if only to rake in those virtual-console-generated dollars.
Check out more Nintendo Switch news and coverage
Looking for more Nintendo Switch news? Check out how blind gamers are using the Nintendo Switch and why you can't get your Mii to look quite like you. Nintendo's left Joy-Con issue turns out to be a hardware problem — here's how to solve it. Find out how to buy a console amid