This is why 'South Park' is staying away from Donald Trump and politics in season 21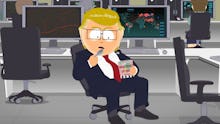 When South Park returns in August for season 21, viewers of the show may notice a considerable drop off in political lampooning — especially the kind aimed at President Donald Trump.
While season 20 of the longest-running scripted series in primetime cable was heavily influenced by Trump and his campaign for president, South Park co-creator Trey Parker told the Los Angeles Times why it is time to abandon such satire.
Basically, it has become "boring," Parker said while promoting his new movie Despicable Me 3.
"We weren't ever really that show," he said. "We would do an entire season and there would be one moment that played off something that had just happened and people would go, 'South Park is the show that does that.' And that's just not true. We're not."
Going forward, Parker said he hopes South Park can get back to what originally made the series a cult sensation.
"This season I want to get back to Cartman dressing up like a robot and [screwing] with Butters, because to me that's the bread and butter of South Park: kids being kids and being ridiculous and outrageous but not 'did you see what Trump did last night?' Because I don't give a ... anymore," Parker said.
While Parker acknowledged that continuing to lampoon Trump could result in "crazy ratings," his response was simple: "I just don't care."
Fans that need Trump satire to survive the current political climate will still have plenty of options this year: late night is showing no signs of slowing down coverage of Trump and neither is Saturday Night Live. In fact, Alec Baldwin recently confirmed to CNN that he will indeed be back on SNL next season to reprise his role as the billionaire president — though he will appear less frequently.
As for South Park, viewers who fell in love with the irreverent comedy during its early years may find themselves not missing the political satire at all.
South Park returns for its 21st season on August 23 at 10 p.m. on Comedy Central.
Mic has ongoing coverage of South Park. Please follow our main South Park hub here.