Colin Kaepernick searches for "independence" in ancestral trip to Ghana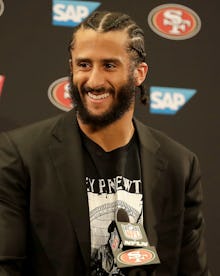 Colin Kaepernick — the former San Francisco 49ers quarterback who made headlines last season for his National Anthem protest — went to Ghana to "find [his] independence," he said in social media posts criticizing Fourth of July celebrations Tuesday.
"How can we truly celebrate independence on a day that intentionally robbed our ancestors of theirs?" Kaepernick tweeted. "To find my independence I went home."
The tweet featured a video montage of Kaepernick's visit, which included a line from Frederick Douglass's famous 1852 speech, "The Meaning of July Fourth for the Negro": "What have I, or those I represent, to do with your national independence?"
Kaepernick elaborated in a longer post on Instagram, writing that finding his "personal independence" meant tracing his African ancestry, which led him to Ghana. He wrote that his trip included visits to sites associated with the African diaspora, a hospital in Keta and the village of Atito.
"I felt their love," Kaepernick wrote, "and truly I hope that they felt mine in return."
Kaepernick refused to stand for the pregame National Anthem during the 2016 NFL season in protest of racism and police brutality. The protest spread across the league and the sports world at large, but the 29-year-old quarterback also faced often vicious criticism — including from President Donald Trump, who has called Kaepernick's decision to take a knee a "terrible thing" and suggested he "find a country that works better for him."
Kaepernick has been without an NFL job since becoming a free agent after the 2016 season, which many have suggested is because of his protest.