Video Games for Kids: 3 child-friendly titles parents can enjoy with their family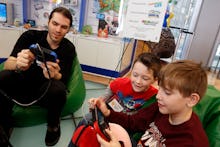 Too many of the parenting circles that I used to consider myself part of demonize video games and screen time. By the severity of their well-meaning statements, you'd think that I was letting my children do hard drugs and vandalize the neighborhood.
While I'm perfectly happy to let well-meaning parents have their sanctimonious rants at my expense, I'd rather spend the time gaming with my little ones. I've put together a collection of my favorite kid-friendly couch co-op games for PlayStation 4, Xbox One and Steam — just in case you'd like to game with your kids, too.
Kid-Friendly Games: Overcooked
I wasn't sure that my kids were going to understand the mechanics in Overcooked. Team17's tendency to create animosity in my family is well-known internal lore. (Too many hours spent chucking "holy hand grenades" at my brother during Worms Armageddon matches, you see.) But my kids, at ages four and five, took to Overcooked with minimal interpersonal strife.
The mechanics in Overcooked are straightforward, but it's the time-crunch and frenetic coordination that makes it a difficult game to master (even for adults). What makes it a great game for kids are the opportunities for leadership and cooperation. My son tends to lead our team of chefs and through that, he's learned to be patient. My daughter has learned accuracy and precision.
And mama? Well, I've learned that my son is very competitive.
Kid-Friendly Games: Lego Dimensions
My kids live for tactile engagement. They want to feel connected to a digital experience through physical interaction. I may not be a big fan of most toy-to-life games, but Lego Dimensions has provided a different level of play that you can't get from games like Skylanders or Disney Infinity.
There's something so satisfying about building a toy and seeing it pop up in a digital landscape. Building the Batmobile in Lego Dimensions allowed my kids to see their work in a game for the first time. Sure, LittleBigPlanet 3 gave them digital art, but seeing their crafted Batmobile was a different experience.
Lego games are difficult to master, especially in co-op, but they're great for teaching kids how to work together to solve puzzles and progress through the game. No one player can do everything — they have to rely on their teammates to make it through.
Kid-Friendly Games: Ultimate Chicken Horse
My kids are wild for this bizarre competitive indie game. Each player chooses an animal as an avatar — my daughter loves the squirrel and my son loves the dog, while I'm rather fond of raccoon — and you choose the level to play in, as well as the traps you'll personally set for the race to the finish line.
The trick of the game is to make it difficult for everyone else to finish the obstacle course, while making it easy enough for yourself to get through. But as my kids and I quickly learned, that isn't an easy line to tread.
What Ultimate Chicken Horse taught my kids was how to have fun while losing a game. (Because it isn't a matter of if you'll lose, it's a matter of when.) We celebrate the little victories, like getting past a particularly difficult trap. We celebrate when we all lose, chalking it up to clever traps and the smart children who set them. Teaching them to have fun while losing a game meant that even when they're playing single-player, they can smile.
After all, you have to learn what doesn't work so that you find your way to what does.
Kid-Friendly Games: Spending time with your kids is the important part
Games can do a lot to teach kids some really important lessons. Leadership, coordination, cooperation, creativity and perseverance in the face of failure are all important skills to learn as we move through childhood. And while games can be excellent facilitators, they're not the point.
The point is to help your kids learn these skills while spending time together as a family. Gaming was an enormous part of my upbringing and I have passed that down to my kids as a legacy of sorts — it was something I did with my dad and my brother. That's how we bonded.
And that's how my little family has learned to bond, too. We find commonality in gaming and as my children grow, I will continue to cherish these moments. I'll even cherish them when we get a noise complaint from the neighbors for being way too loud... again.
More gaming news and updates
Check out the latest from Mic, like this essay about the sinister, subtle evils lurking in rural America that Far Cry 5 shouldn't ignore. Also, be sure to read our review of Tekken 7, an article about D.Va's influence on one Overwatch player's ideas about femininity and an analysis of gaming's racist habit of darkening villains' skin tones.