There are 300 ISIS fighters still in Mosul, Iraqi commander says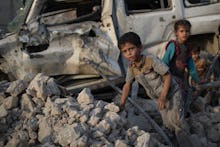 Iraqi forces continue to advance in Mosul, but an Iraqi commander told the Associated Press on Wednesday that roughly 300 Islamic State fighters remain in an enclave in Mosul's Old City — and there may be a "large number" of civilians trapped with them.
Iraqi special forces Lt. Gen. Sami al-Aridi told the AP that the ISIS-controlled area of the city is now just 500 square meters. In past weeks, Iraqi forces have made significant gains in Mosul, a city that has been called the "de facto capital" of the Islamic State.
In June, Iraqi forces captured the ruins of Mosul's al-Nuri mosque — the mosque where ISIS leader Abu Bakr al-Baghdadi proclaimed a new "caliphate" in July 2014, shortly after ISIS had taken over Mosul along with large parts of Iraq and Syria.
The offensive to take back the city of Mosul from ISIS has been ongoing since October 2016, the BBC reported Tuesday. In January, the Iraqi government announced that eastern Mosul had been liberated, the BBC reported, but Mosul's Old City, with its narrow streets, proved to be more difficult for Iraqi forces to navigate.
On Tuesday, Iraqi Prime Minister Haider al-Abadi reportedly announced the Iraqi forces had achieved a "big victory" in Mosul. But, as al-Aridi told the AP, some ISIS fighters remain in the city.
There is also a concern that ISIS fighters could escape to Syria as Iraqi forces close in on them. "They just shave their beards and walk out," al-Aridi told the AP. "Just yesterday we captured two among a group of women and children."