Kris Jenner explains why Kim Kardashian West chose to open up about her Paris robbery on 'KUWTK'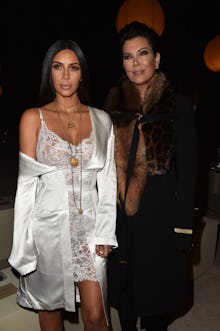 The Kardashians don't hold anything back on their E! reality series, Keeping Up With the Kardashians. So it shouldn't have come as a surprise that an episode in March was dedicated to the Paris robbery involving Kim Kardashian West.
Kardashian West was held at gunpoint on Oct. 3 in her Paris apartment. Kardashian West, 36, who was in the city to watch her sister Kendall Jenner walk in the Givenchy Fashion Week show, was bound with duct tape as the assailants stole approximately $10 million worth of valuables. Though she was unharmed, the robbery left her shaken and frightened. Kardashian West ultimately removed herself from social media, fearing that her constant updates tipped off the men who attacked her.
Six months after the ordeal, Kardashian West opened up about the robbery in a March 19 episode of Keeping Up With the Kardashians. According to family matriarch and KUWTK executive producer Kris Jenner, the reason for airing the episode was simple: Their fans deserved to know what happened.
During a reality TV roundtable with the Hollywood Reporter, Jenner said viewers are "emotionally attached and invested" in the lives of Kardashian West and the rest of her family.
So many people felt like they deserved the explanation of what happened because they had for the last decade followed every moment of her life and so then she felt like it would almost be a relief to be able to say it on her terms and explain what happened.
Kardashian West shared a similar explanation with her fans prior to the episode. In an Instagram post, she wrote that it was "important to share this story through my eyes and not in an interview where my own words could be twisted."
"I have always shared so much and I'm not going to hold back when this was probably one of the most life changing experiences for me," she wrote. "I would never wish this experience upon anyone, but have learned some valuable lessons and feel so blessed to be safe home with my babies and husband."
Seventeen people were arrested in connection to the robbery. ABC News reported in January that four of the people arrested were charged.
Mic has ongoing coverage on the Kardashians. Check out our main Kardashian hub here.