Lindsay Lohan tweeted a message of support for Trump: "This is our president"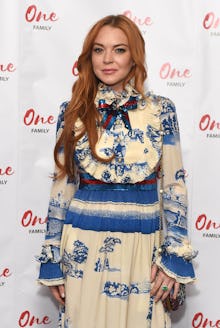 If you ask Lindsay Lohan, President Donald Trump is pretty "grool."
On Tuesday, Lohan responded to a tweet featuring a Breitbart article about Trump's support for Charlie Gard, a terminally ill infant in Britain who is facing the possibility of being taken off life support.
The original tweet was supportive of Trump and called people at CNN "crybabies" for bringing attention to Trump's controversial July 2 tweet showing him pulverizing the CNN logo.
Lohan responded, "THIS IS our president. Stop #bullying him and start trusting him. Thank you personally for supporting #THEUSA."
Also on Twitter Tuesday, Lohan called Donald Trump, Ivanka Trump, Melania Trump and Donald Trump, Jr. — with no mention of Tiffany or Eric —  "kind people."
Lohan's "kind people" tweet was also in response to a tweet supporting Trump. This time, the initial tweet referenced Trump receiving a hug from Indian Prime Minister Narendra Modi, who is known for his tight squeezes, and also referred to former President Barack Obama as the "clown we had last year at this time."
Aside from supporting Trump, Lohan has recently garnered headlines for her alleged conversion to Islam, which began in January when she revamped her Instagram with the words "Alaikum salam." Muslims began welcoming Lohan to their religion, which she seemed to embrace even further when she celebrated Ramadan on a fancy yacht.
Lohan has also been quite active on Twitter lately. In the past two weeks, she's used the social media platform to invite Paris Hilton, Britney Spears and Beyoncé to her birthday party in Mykonos, Greece, and she asked Emma Stone to star in Mean Girls 2.