6 of Elisabeth Moss' most notable child actor gigs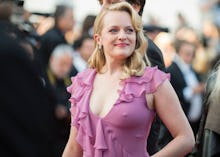 There is no question that Elisabeth Moss has earned the title of "Queen of Peak TV." Even before she enraptured audiences earlier this year as Offred in The Handmaid's Tale, we knew her for seven seasons as dogged career girl Peggy Olson, aka the heart and soul of Mad Men. But as we eagerly anticipate her return to television — which won't be too long a wait, as she will reprise her Golden Globe-winning role as Detective Robin Griffin in SundanceTV's Top of the Lake: China Girl in September — now is a good time to get acquainted with some of her earlier work.
Before she was breaking Mad Men's numerous glass ceilings and serving as Gilead's voice of resistance in The Handmaid's Tale, Moss spent the 1990s earning her stripes as a child actress. So by the time she landed her career breakout role as Zoey Bartlet, the president's daughter, on The West Wing, the then-17-year-old Moss was already a seasoned professional.
From TV movie-musicals to biopics, check out some of the roles that helped get the Emmy-nominated actress where she is today:
Moss co-starred alongside Bette Midler in this television remake of the 1962 feature film (which was originally based on the Broadway musical of the same name). The 11-year-old danced her little heart out as the perpetually ignored Louise Hovick, the daughter of Midler's nightmare of a stage mother, Rose. But don't feel too badly for Moss' character, because Louise grew up to become the "Gypsy" of the movie's title, the burlesque star Gypsy Rose Lee.
Two years later, Moss was back on the remake beat, this time for Disney, as one half of a powerful kiddie pair who can do extraordinary things like make a truck levitate. Fun fact about Moss' role as the extraterrestrial Anna: 20 years earlier, future Real Housewives of Beverly Hills star Kim Richards portrayed the original version of the character.
In this telepic about country music legends the Judds, Moss plays the young version of Ashley Judd. Although Ashley eventually became a movie star in her own right, Moss' portrayal in Love Can Build a Bridge depicts her as the "other" daughter who opts to stay behind with her father and forge her own life when her mother and sister leave to fulfill their dreams on the Nashville scene.
This Hollywood adaptation of Jane Smiley's novel saw Moss rubbing elbows with castmates Jessica Lange, Colin Firth and Michelle Pfeiffer. At the end of this clip, you can see her character being comforted by Pfeiffer and fellow co-star Michelle Williams while some of the menfolk engage in fisticuffs.
The Winona Ryder vehicle Girl, Interrupted told the story of Susanna Kaysen, who spent some time at a psychiatric facility in the late 1960s. Upon her arrival at Claymoore Hospital, Susanna meets her motley crew of fellow patients. One of them is Moss' character, Polly, whose face is so badly scarred by burns she's earned herself the nickname "Torch." This moniker is bestowed upon her by one of the hospital's more volatile residents, Lisa, played by Angelina Jolie, who won an Oscar for the role. Girl, Interrupted is currently available to stream on Hulu.
In Moss' own words, the years she spent on Aaron Sorkin's critically acclaimed series The West Wing were her "classroom." It was on this show that she transitioned from a child actor to an adult one; she started playing President Bartlet's daughter, Zoey, when she was 17, and concluded the role at age 23. All seven seasons are currently available to stream on Netflix.
Mic has ongoing arts coverage. Please follow our arts hub here.