Shell pulls cardboard cutout of woman because men can't keep their hands to themselves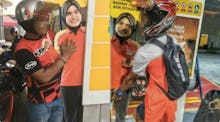 Shell Malaysia has pulled advertisements of a smiling woman — because men wouldn't stop pawing her and posting pictures to social media.
According to Mashable, the ad in question is a cardboard cutout of Nor Shafila Khairusalleh, a 25-year-old woman who works for Shell. She rose to internet fame in November, when cutouts of Khairusalleh proffering bottles of water were immortalized as memes.
After photos went viral of men groping Khairusalleh's breasts and crotch, grabbing her nose and otherwise foisting themselves upon her image, Shell removed the cutouts from all of its 950-plus stations in Malaysia, characterizing the men's "extreme behaviour" as "disrespectful" and "distasteful," according to the BBC.
"We urge netizens and members of the public to refrain from sharing these images further," the company said.
One man, Shahril Azmi Abdul Shukor, apologized for kissing Khairusalleh's cutout in a picture posted to Facebook.
"I humbly apologize over my actions against Nor Shafila Khairusalleh," he said in a Facebook video, according to Free Malaysia Today. "I admit I crossed the line."
"I let the excitement get the better of me," he added, offering his apologies to her husband and her family, and to speak to her in person if necessary.
Khairusalleh told the Malay Mail Online that she didn't appreciate the overtly sexual poses some men struck with her figure.
"They may just be joking, but I feel ashamed because that is still myself although it is just an image," she said.