'Game of Thrones' star Sophie Turner teases that Sansa Stark might not make it out of season 7 alive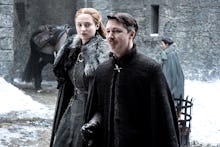 As Game of Thrones nears its conclusion, many of its characters seem to be in harm's way. While major players like Daenerys, Cersei and Jon Snow are likely safe for now, certain characters like Sansa Stark could be on the chopping block by the end of the penultimate season.
Sophie Turner, who plays Sansa, seems to believe that, too. In an interview with Time, she said her character is "probably going to die" in season seven, rather than get the fairy tale ending that she deserves.
Ideally, I'd like her to get her revenge on Cersei and many of the others who have done her wrong. What I loved about the character and what I didn't expect was how much she's been growing. Even if she didn't get that final end result of being united with her family again, my hope for her is that she continues to keep growing more and more powerful and confident in herself. But in reality, it's probably not going to happen, and she's probably going to die!
Sansa is currently biding time at Winterfell with brother Jon and Petyr "Littlefinger" Baelish, though Littlefinger has already tried to drive a wedge between Jon and Sansa as part of his plan to seize the Westerosi crown. It's possible that Littlefinger could attempt to kill Sansa if she and Jon don't comply with his political agenda. However, on the other side of the coin, Sansa could tire of Littlefinger's attempts to manipulate her and eliminate him from the picture completely. His blind ambition could be a real setback as Sansa and Jon prepare to fight the White Walkers.
Turner told Time she wants "more kills" after she enacted revenge on Ramsay Bolton in season six. Perhaps the gods of Westeros — i.e., the Game of Thrones writing team — will grant her that wish in season seven. Or perhaps the White Walkers will just storm in at the end of the season and wipe out all of the characters that fans have grown to know and love. After six seasons of shocking deaths, that's entirely possible.
Game of Thrones will return to HBO on July 16.
Mic has ongoing Game of Thrones coverage. Please visit our main Game of Thrones hub here.