'Pokémon Go' Gym Glitch: Error in the new update traps Pokémon at gyms as defenders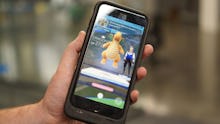 Pokémon Go has released a sweeping, ambitious gym update meant to allay fan fatigue with the state of the game's gym battles. Before the update, gyms had been rife with spoofers, which barred some players from participating and led to others opting not to join a team at all.
Unfortunately, updates are an imperfect process. There had been a recent glitch that prevented users from placing their Pokémon in a freshly-conquered gym, but now the opposite is true.
Players report that their Pokémon are stuck in a kind of gymless limbo.
Pokémon Go Gym Glitch: For now, there's no way to get "lost" Pokémon back
According to Heavy, players reported that the post-update game believes one of their Pokémon is stationed at a gym, even when it isn't. The glitch will give an error message when trying to place a Pokémon into a gym — the Pokémon will register as being a defender, but won't show up in the gym itself.
When you check the gym badge for the particular gym you were trying to place the Pokémon in, it will say it's not there, in spite of its status on the Pokémon screen. This means your Pokémon can't be knocked out of a gym, so it's just sort of stuck in an in-between state.
You'll still be able to place another Pokémon at the gym, but the glitched Pokémon is stuck there. You can send a service ticket to Niantic if this happens to you. USGamer has reported that the Niantic service team is aware that this is an issue. Still, there's currently no way to resolve it, but hopefully there will be a fix for it soon.
More Pokémon Go news, updates, tips and tricks
Raids are here! See why they may be the key to legendary Pokémon. Find out how to determine how long it will take you to reach level 40, and see what we think of the Gen 2 Pokémon added to the game. Here are the kinds of Pokémon you get from 10-kilometer eggs, and here's where you can check out what you missed during the Water Festival and Solstice events. Find out more about the upcoming Chicago event and why you'll probably be able to catch Unown while you're there — if you're not busy searching for rare evolutionary items, that is.