Your next iPhone could have 3-D face scanning technology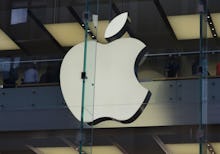 You can unlock your phone by typing in a password or code. You can also use your fingerprint. Depending on your device, you can even use your iris for authentication. If Apple has its way, you could use your face to unlock your iPhone someday.
There have been lots of rumors about 3-D face scanning technology going into the next line of iPhones. In January, a research note from Cowen and Company said the iPhones will come equipped with new 3-D sensing technology allowing for "some form of facial/gesture recognition." In March, KGI analyst Ming-Chi Kuo predicted the OLED iPhone, also known as the iPhone 8, would have "3-D sensing for facial recognition."
Bloomberg reported that Apple is testing this technology so users can "log in, authenticate payments and launch secure apps by scanning their face." Citing unnamed sources, the report says a new 3-D sensor is behind the technology, which is currently "in development," and can scan a face and unlock an iPhone in a few hundred milliseconds. The sensor is rumored to have 3-D depth perception — this means a 2-D picture can't fool the security system.
Bloomberg's sources say the 3-D sensor works without having to be super close to your face. It can supposedly function while laying on a flat surface like a table.
Apple is also reportedly testing eye scanning as well. All these measures to integrate biometric authentication are to provide alternative methods of unlocking a device that don't require a TouchID, which Apple introduced in 2013 with its iPhone 5 model. But rumors suggest that Apple is looking to part ways with the TouchID.
Initial speculation suggested that the physical home button would be swapped out for one built into the device's OLED display. Apple was then said to be struggling to perfect this technology, according to various reports. In the most recent report from KGI's Kuo, the iPhone 8 won't have a fingerprint scanner integrated into the screen of the device.