'Hollow Knight' Merchandise: Get a tee from your favorite Kickstarter game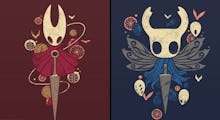 Nothing shows support for your favorite game than getting some merchandise. Hollow Knight, one of the Kickstarter success stories, is putting out a line of merchandise.
Hollow Knight is a 2-D platformer with a pleasing sense of style. Each background and NPC is filled with so much detail that it's almost like a comic. It's no wonder fans would want the art style on a shirt.
Check out the adorable T-shirt art for Hollow Knight
If you're interested in getting some of the merchandise, check out the full store on The Yetee. There are three separate shirt designs as well as as a fun pin.
If you haven't played the game, you can find it on Steam for $14.99 or a bundle deal that includes the soundtrack for $19.98.
More gaming news and updates
Check out the latest from Mic, like this essay about the sinister, subtle evils lurking in rural America that Far Cry 5 shouldn't ignore. Also, be sure to read our review of Tekken 7, an article about D.Va's influence on one Overwatch player's ideas about femininity and an analysis of gaming's racist habit of darkening villains' skin tones.