British police find the final "visible human remains" in Grenfell Tower fire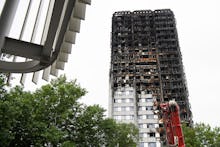 The last "visible human remains" have been recovered in the aftermath of London's Grenfell Tower fire, but investigators have no plans to stop searching through the blaze's debris, the Associated Press reported Wednesday.
Police said at least 80 people died or are missing and presumed dead as a result of the fire, which demolished the 24-story apartment building June 14. Metropolitan Police Commander Stuart Cundy told BBC a total of 87 recoveries have been made, but the fire's "catastrophic damage" meant he couldn't determine whether those remains came from 87 separate individuals.
Twenty-one victims have been identified so far, police said.
Police and forensic anthropologists intend to continue combing through the 17 tons of ash on each floor in the hopes of discovering more human remains, according to the AP. Those efforts are expected to last several months.
"Work in Grenfell Tower continues, seven days a week," Cundy told CNN. "I do not want there to be any hidden victims of this tragedy."
Additionally, Communities Secretary Sajid Javid announced the instatement of a governmental task force designed to help victims of the fire cope with the incident and find new housing, according to BBC.
"The challenge of providing that support is, and will continue to be, significant," Javid said. "I want to help the council meet that challenge."
The AP reported that 139 surviving families have been offered temporary housing so far, though only 14 have accepted.