'Hawaii Five-0' star Daniel Dae Kim posts in-depth Facebook message addressing exit from CBS series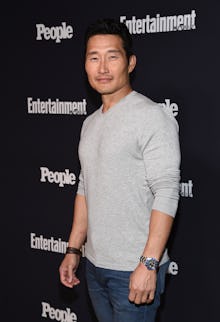 Actor Daniel Dae Kim is speaking out after news broke of his surprise exit from CBS crime drama Hawaii Five-0.
Kim, who starred as Detective Lieutenant Chin Ho Kelly for seven seasons, decided to leave the series after he and co-star Grace Park, who played Officer Kono Kalakaua, failed to obtain the same salary as stars Alex O'Loughlin and Scott Caan. According to Variety, the actors were trying to negotiate a deal with CBS, but were unable to "reach satisfactory deals." The site reported that CBS Television Studios offered the actors "10 to 15% lower than what O'Loughlin and Caan make in salary." O'Loughlin, Caan, Park and Kim have all been series regulars since season one.
Executive producer Peter Lenkov, as well as a CBS spokesperson, issued a statement when news of Kim and Park's departure was revealed. Now Kim is speaking out about his Hawaii Five-0 exit.
The 48-year-old actor who previously starred as Jin-Soo Kwon on Lost and voiced the character of Hiroshi Sato on The Legend of Korra, wrote a lengthy message to his fans on Facebook. In the post, Kim explained that he was "busy" with the Fourth of July holiday, but wanted to address what happened.
"By now many of you have heard the news, and I'm sad to say it is true," he wrote. "I will not be returning to Hawaii Five-0 when production starts next week. Though I made myself available to come back, CBS and I weren't able to agree to terms on a new contract, so I made the difficult choice not to continue."
Kim continued by thanking the show creators, as well as CBS, for the opportunity to play Chin Ho Kelly:
As an Asian-American actor, I know firsthand how difficult it is to find opportunities at all, let alone play a well developed, three-dimensional character like Chin Ho. I will miss him sincerely.
What made him even more special is that he was a representative of a place my family and I so dearly love. It has been nothing short of an honor to be able to showcase the beauty and people of Hawaii every week, and I couldn't be prouder to call these islands home. To my local community, mahalo nui loa.
Hawaii Five-0 will write the exit of Chin Ho Kelly and Kono Kalakaua into the season eight premiere. When the series left off in the season seven finale, Kalakaua was off chasing sex traffickers and Kelly was heading to San Francisco to lead their Five-0 unit. TV Line reported that the series is also looking to add a new cast member to round out the show.
Kim is currently working as an executive producer on the Freddie Highmore-led series The Good Doctor. The show will premiere on ABC in the fall.
Mic has ongoing TV coverage. Check out our main TV hub here.