'Cuphead' PS4: Developers confirm Xbox and PC exclusivity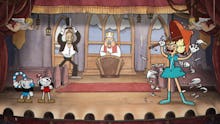 One of the coolest looking games at the past few E3 shows has been Cuphead, an indie platformer impeccably styled after old-timey cartoon shorts. Cuphead has been a long time coming, with its Sept. 29 release date finally announced at E3 2017 in June.
It's pretty tough not to be excited for Cuphead once you've seen it in action, but there's bad news if you play games primarily on a PlayStation.
Cuphead is exclusive to Xbox One and PC
Originally posted on NeoGAF and reported by MCV, a Cuphead developer confirmed that "this Cuphead game" is exclusive to Xbox and PC. That phrasing, of course, would leave open the possibility of future Cuphead games coming to different platforms, but it sounds like the one we're all waiting for is exclusive to Xbox on consoles.
Cuphead follows the titular character and his buddy Mugman as they try to repay their debt to the devil. How do they do that? By running, jumping and shooting their way through sidescrolling levels with fantastically animated boss fights to bookend the action. According to the game's Steam page, Cuphead incorporates the same techniques as the material that inspired it, such as "traditional hand drawn cel animation, watercolor backgrounds, and original jazz recordings."
Cuphead looks super exciting, but if you don't have an Xbox or a modern PC, it sounds like you won't play it anytime soon.
More gaming news and updates
Check out the latest from Mic, like this essay about the sinister, subtle evils lurking in rural America that Far Cry 5 shouldn't ignore. Also, be sure to read our review of Tekken 7, an article about D.Va's influence on one Overwatch player's ideas about femininity and an analysis of gaming's racist habit of darkening villains' skin tones.