Rob Kardashian leaked nude photos of his ex Blac Chyna — and it could be considered revenge porn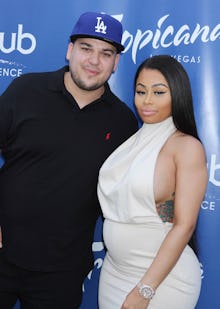 During a series of rants on Instagram aimed at ex-fiancée Blac Chyna, Rob Kardashian posted nude images of Chyna — which, in California, where both Kardashian and Chyna live, could be considered revenge porn.
In the since-deleted post, Kardashian alleged he paid for Chyna's plastic surgery, which he says was botched.
Accompanying the naked photo were captions accusing Chyna of sleeping with other men, including a video of Chyna kissing an unknown man. Kardashian claims Chyna sent him the video on July 4.
Kardashian also posted — and deleted — another nude photo of Chyna, which he allegedly requested.
If Chyna were to take legal action against Kardashian, he could find himself facing up to six months in jail and a $1,000 fine for distributing revenge porn, a misdemeanor crime in California, according to Shouse California Law Group.
According to Paul Wallin, a senior partner at Wallin & Klarich, since the law first passed in 2013, cases concerning revenge porn have begun to stack up.
Wallin said that, in order to be convicted, an attorney would have to prove Kardashian violated the five parts of the law: He had the image of Chyna, he intentionally distributed it, the image was supposed to be private, he knew it would cause the party distress and — the hardest to prove — that it did end up causing emotional distress.
However, given that the pictures were accompanied with messages mocking Chyna's alleged plastic surgery, Wallin suggested that such a case might not bode well for Kardashian.
"In this case, any reasonable juror would read this and be outraged," he said.
According to Wallin, the fact that Chyna was once a stripper "doesn't make Kardashian any less guilty" for circulating the image.
And while the photo may have only been up for a few minutes, that's enough time for the image to make it to thousands of people.
"There's a chance he knew these things could travel like wildfire," Wallin said. "It's a little less serious that he took it down, but he knows that it could travel over time."
Chyna responded to the posts on her Snapchat, alleging that Kardashian had physically abused her, according to People. The posts have since been deleted.
"I'm supposed to be quiet because you're a Kardashian," Chyna wrote. "The light will come to the light."
Kardashian and Chyna have had a tumultuous relationship since they first began dating in 2016, and it has played out on Instagram before. In December, Blac Chyna's Instagram was allegedly hacked to reveal that she and Kardashian had broken up. An April episode of Keeping Up With the Kardashians showed the behind-the-scenes footage of the Instagram drama, including leaks of intimate conversations between her and other men.
The two officially called off their engagement in February, and prior to this Instagram rant, Kardashian has expressed his love for Chyna.