Rob Kardashian posts, then deletes naked photos of Blac Chyna in Instagram rant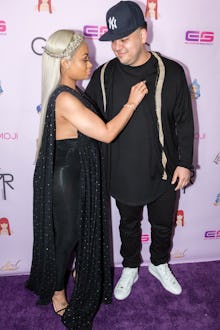 While it looked as if Rob Kardashian and his ex-fiancée Blac Chyna had recently made amends, his graphic Wednesday morning Instagram rant revealed the stars' relationship is still in turbulent waters.
Kardashian posted a series of nude images of Chyna along with screenshots of text conversations to his Instagram before deleting some of them just moments later. The photos included detailed captions claiming Chyna has been cheating on him with rapper Ferrari, that she has been on drugs and that he paid for her post-baby body surgery, TMZ reports.
According to Kardashian, Ferrari is just one of the men Chyna has been intimate with, claiming he has the "receipts" to prove it.
In another since-deleted explicit Instagram post, Kardashian said he has remained faithful to Chyna, even though she has repeatedly cheated on him, as New York Daily News reported.
More receipts are coming. Just yesterday Chyna sent me her pussy and everything and said she gonna come fuck me ... wait for it. Never once have I cheated on Chyna and I remained loyal to her even after all the cheating she been doing and the multiple men she been fucking including me.
Kardashian claims Chyna's drug habit and lifestyle is a way to get back at him, writing in another Instagram post that she's angry his "little sister took her baby daddy."
Chyna responded via Snapchat, alleging Kardashian had hit her and that "light will come to light," but that post has also since been deleted, People reported.
Kardashian and Chyna's relationship officially began in January 2016, with their engagement coming just several months later. In November, the couple celebrated the birth of their first child together, Dream. Since then, Kardashian and Chyna have split and reconnected numerous times in front of the public eye, but Wednesday's explicit Instagram rant marks the first time their feuds have reached such an extreme.
Mic has ongoing Kardashian coverage. Please follow our main Kardashian hub here.