The best ice cream shops in all 50 states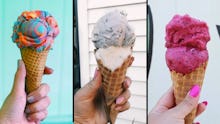 This week, Out of Office is celebrating all things ice cream. Follow along as we explore the sweet history and unexpected influences of America's favorite dessert.
Creamy, melty, sweet and sometimes savory, ice cream can lift spirits faster than it drips down your cone and onto your hand. To help you figure out the cones worth traveling for, Mic worked with Foursquare to pinpoint the best ice cream shops in every state. After analyzing ratings, number of check ins, tips and popularity, Foursquare was able to provide data of the top-ranked scoop shop in all 50 states.
From frozen custards and old-fashioned milkshakes to banana splits, the top ice cream shops in America are truly diverse in flavor and form.
Order a "Fancy Nancy" and you'll get homemade Italian ice topped with a dollop of vanilla soft serve. With 16 flavors of handmade Italian ice, including peach lemonade and red velvet cake, you'll be tempted to visit all summer long to try every flavor.
Yogurt Lounge is currently under construction, but you should still add this shop to your ice cream list. The Anchorage shop has self-serve fro-yo — cake batter and chocolate get rave reviews on Yelp.
Arizona: Churn in Phoenix
According to Foursquare reviews, the pro move at Churn is to order an ice cream sandwich made with fresh baked cookies and a generous scoop of homemade ice cream. Alternatively, cool down with satisfying flavors like blueberry lemon sorbet — guaranteed to help you beat the Phoenix heat.
Creamy and decadent, frozen custard can cut right through sizzling Arkansas summers. Andy's might be a chain, but it still has all the ice cream classics (concretes, sundaes, shakes, banana splits) a dessert lover could want.
No day in San Diego is complete without a scoop of icy cool gelato made with organic ingredients. Trip Advisor ranked the shop the number one dessert spot in La Jolla, and commenters noted there are dairy-free and vegan options. The ultra-California lavender and honey flavor is sure to hit the spot.
Take a break from Denver's slew of breweries and thriving outdoorsy scene and head to this local ice cream gem. The masterminds behind Sweet Action Ice Cream concoct truly inventive flavors like cherry jalapeño, iced tea lemon sorbet and kiwi sorbet (above).
Located near the University of Connecticut's agricultural campus, this beloved scoop shop serves treats made from the university's own cows. Gaze at grazing cows out in the pasture next to the Dairy Bar for the full experience.
The milk for these special treats comes from a herd of 30 cows raised by this family-owned and operated farm. If the bacon flavor doesn't tempt you, perhaps the raspberry chip will.
More than 40 flavors of Italian ice make Jeremiah's Italian Ice the place to beat the sticky summer heat in Florida. This refreshing dessert is worth the 15-minute detour from Orlando's theme parks.
Find yourself in Hotlanta this summer? Head to Jeni's (which originated in Ohio) for scoops of tantalizing Southern flavors. Don't miss out on the Peach Lassi Buttermilk Frozen Yogurt.
Come hungry — the portions are massive at this Hawaiian favorite. Get ice cream or fro-yo in the middle of your shaved ice, or tapioca or condensed milk on top for a decadent twist. Bright colors make this dessert especially Instagram-friendly.
If anyone tells you that you can't have it all, bring them to Goody's, where you can order shakes, ice cream in waffle bowls and even old school ice cream sodas if you're feeling nostalgic.
Sundae lovers, assemble. You can't miss the sundaes featuring frozen custard at this Chicago dessert institution. You won't want to split them, but if you do, that just means you'll have more flavors to try.
Indiana: BRICS in Indianapolis
The city that's home to the Indy 500 has some delicious ice cream at BRICS. (If you're wondering, it stands for Broad Ripple Ice Cream Station, an ode to the train station near the shop.) You'll find 24 permanent and 12 rotating flavors to cool down with, including blackberry and coconut almond fudge.
This midwest chain doesn't mess around when it comes to ice cream: upside down shakes give Dairy Queen a run for its money, and flavors include red raspberry and chocolate chip cookie dough.
Serious cone fans will appreciate that Sylas and Maddy's makes both homemade ice cream and homemade waffle cones each day. No stale, crunchy cardboard cones over here. Feast your eyes on the Oreo waffle cone in the photo above as evidence.
This no frills corner stop has all the classic goods you could ever want — soft serve, ice cream, chili dogs and root beer floats at affordable prices. Cones start at $1.75, and you can get pints for a dollar more.
When you tire of the NOLA party scene, head to Creole Creamery to soothe your hangover with a dairy-based dessert. Flavors like Lavender Honey, Nectar Sherbet and more are listed on a quaint chalkboard menu that's as extensive as it is delicious.
No need to book a flight to Italy — just head to Maine for some premium gelato. The Gelato Fiasco has a great name and even greater treats — its Maine Munchies has a salty peanut butter gelato base with chocolate covered pretzel balls. Or for something fruit-based, go for the gelato swirled with local blueberries.
Get your licks at this rustic farm in Bel Air. Reviewers say the lines are long but the scoops (and the cafe food) are well worth the wait. Live music can make the time pass faster, and while you're there, place an order for a barbecue sandwich.
Massachusetts: Richardson's in Middleton
You come here for the old-fashioned ice cream, which couldn't be fresher since Richardson's is a working dairy farm. The farm's been around for more than 300 years. An on-site mini golf course means you can really make a night of it.
Moomers — located in Mario Batali's favorite summer destination — makes 160 flavors of ice cream. If they don't have your favorite, they'll call you up when it's ready. Now that's outstanding customer service.
Love freebies? Izzy's gives you a mini scoop, called an "Izzy scoop," on top of any order, so you can try out a new flavor and your main choice gets to wear a little hat.
Mississippi: area 51 Ice Cream in Hernando
Strap on a jet pack and set your sights on this space-themed parlor. The artisanal ice cream shop sources local ingredients to make fresh flavors like blackberry goat cheese.
Top-notch frozen custards are served up in highlighter-yellow cups at this local shop that draws a big crowd. Thankfully, the line moves quickly.
Montana: Big Dipper in Missoula
This Montana haunt dishes out flavors like Huckleberry, which features sweet, tart berries native to the northwest. Beat the dry heat with scoop (or two) in a homemade waffle cone.
Find Nebraska's standout ice cream joint in the capitol: Ivanna Cone in Lincoln has heaps of zany flavors like Chicken N Waffles, Hibiscus Lemon Gin Sorbet and Black Raspberry Donut Oreo. Check the shop's Facebook page for the latest flavors.
Here's a safe bet in Vegas: The luscious, creamy custard at Luv-It will satisfy your sugar cravings. The takeout window has been open since 1973 and it's hidden behind a gas station, complete with one of those spastically waving dolls with a fan hidden inside.
New Hampshire: King Kone in Merrimack
Come for the mouthwatering soft serve, stay for the expertly applied sprinkles at this seasonal shop. Bonus: King Kone offers pup cups so your dog can keep cool, too, and they appear to be quite generous when it comes to cookie dough toppings.
Cliff's is "home of the skyscraper," a towering, gravity-defying mountain of soft serve. Order it if you dare. The lines are long, but that just means you'll have more time to choose between dozens of tempting flavors like peanut butter s'mores and tiramisu.
New Mexico: Frost Gelato in Albuquerque
Frost Gelato has locations across the U.S., but the Albuquerque outpost will hit the spot on a hot New Mexico afternoon. Don't let the chain status fool you, this franchise serves up addictive gelato and sorbet that will have you tracking down all the outposts.
There's no shortage of good ice cream in New York, but this Brooklyn-based scoop shop earned top marks on Foursquare. Dreamy flavors with witty names (like Snap Mallow Pop, a flavor reminiscent of a Rice Krispies treat) will please anyone who their likes ice cream studded with candy or baked goods. The Ooey Gooey Butter Cake flavor is not to be missed — take it from this writer, a local with a voracious appetite for ice cream.
North Carolina: The Parlour in Durham
Grab a cone and stroll through downtown Durham. Flavors like Vietnamese Coffee and Ginger-Ginger (ginger ice cream base with pieces of candied ginger) are must-trys.
Build your own frozen yogurt masterpiece at this international chain, where you can add fresh fruit, nuts or candies on top. If you're feeling ambitious and hungry, mimic the photo above and split your dessert into a healthy side (fruit and coconut toppings) and a decadent one (candy toppings).
An Ohio classic, Mitchell's sources ingredients locally whenever possible. Not sure what to order? Wildberry Crumble and Porter Chocolate Chunk are sure bets.
Andy's makes the Top 50 list again with its location in Tulsa. (It also made the list for Arkansas.) But really, who can say no to frozen custard topped with cookie dough?
Innovative flavor menus debut each month at this beloved Portland scoop shop. If you don't want to wait in line (or can't because you live across the country), you can order pints of its insanely good ice cream online.
This old-school parlor is a Philly must-taste. Handmade ice cream is served in "ice cream cartons" that look like Chinese food takeout boxes. We'd bet there aren't often leftovers, however.
No beach day in Rhode Island is complete without a creamy, cool treat from Brickley's. Another location in Wakefield also serves scoops to adoring customers. The Providence Journal conducted a reader's choice poll and named Brickley's the best ice cream shop in the state — clearly, Foursquare users agree.
Find yourself in Charleston and need to cool off? Stroll to King Street and get your hands on a cone of Jeni's (which also topped the list in Georgia). Just because it's a multi-state chain doesn't mean it can't satisfy your ice cream needs and wants.
South Dakota: B&G Milkyway in Sioux Falls
A dipped ice cream cone is one of life's simple pleasures. Get chocolate, cherry or butterscotch dips at a B&G Milkyway, which has several chains in the Sioux Falls region.
If your mouth is on fire from Nashville hot chicken, head immediately to Jeni's for a cool dessert. The good people in Nashville love the Jeni's chain as much as ice cream lovers in Atlanta and South Carolina.
The Mexican Vanilla flavor is a fan favorite at this quirky ice cream joint that has very Instagrammable murals nearby. It's keeping Austin weird, if you ask us.
This affordable shop serves generous portions, so come hungry or share with a friend. The "Brownies on the moon" flavor got a lot of shoutouts on the shop's Foursquare page.
Vermont-based Ben and Jerry's may rule ice cream freezers nationwide, but this scoop shop holds a special place in many a Vermonter's heart. The Village Scoop has a drive-thru window so you can speed off into the night with a cone or creemee, a maple-flavored soft serve that might as well be the state's official dessert.
A classic takeout window spot, Carl's has ice cream made from old-school equipment from the 1940s. Taste the nostalgia next time you're in town.
Washington: Mallard in Bellingham
Less common flavors like ghost pepper, chocolate lavender and basil rule the menu here. They make these concoctions right in the shop, so you know it's going to be damn good.
Load up your scoops with toppings like hot fudge, sprinkles or nuts at Ellen's, an ice cream shop with cheery teal walls. If the country roads take you through West Virginia, add this sweet destination to your itinerary.
Not all ice cream shops have their own app to tell customers the current flavor menu, but Kopp's does. Check the "Flavor Forecast" and we guarantee you'll start craving their unique flavors, like "Grizzly Bear," a chocolate custard with butterscotch ribbons.
Don't be scared away by the line — Moo's is worth it whether you're in town to for the slopes or Wyoming's summer sunshine. Huckleberry is a favorite at this joint, which is known for its organic ice cream.