More than 100 shot over violent 4th of July weekend in Chicago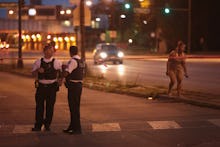 More than 100 were shot and 15 killed in Chicago as the city suffered one of the bloodiest Independence Day weekends in recent years, the Chicago Tribune reported Wednesday.
At least 101 were reported wounded between Friday and Wednesday morning, mostly toward the city's south and west sides.
The surge of violence came days after President Donald Trump dispatched about 20 federal agents to the city; he has repeatedly said that he would "send in the Feds" if Chicago didn't fix its "horrible 'carnage.'"
Chicago endured 762 murders in 2016 — the city's highest murder rate in nearly two decades. The city has had 349 killings so far in 2017, and more than 1,700 people have been shot, according to the Chicago Sun-Times.
Though the four-day weekend started off relatively quietly, at least 42 people were shot in a 12-hour rash of violence from Tuesday afternoon to early Wednesday morning, according to the Tribune.
The Fourth of July violence — the victims of which include a wounded 13-year-old boy — occurred despite of 1,300 additional officers on patrol during each day of the long weekend.
Chicago police attributed the bloody weekend to the city's gang problem.
Peter Nickeas, who reports on gun violence for the Chicago Tribune, said in a series of tweets Wednesday that police districts were so overwhelmed by the weekend's violence that "shots fired calls lingered." He said it wasn't clear what to draw from the bloody holiday.
"I don't know what to draw from bad weekends, or that anything can be," Nickeas wrote. "It feels like it's just more of what's been going on for a long time."
"It's like the gun violence is going to be the one constant," he said in another tweet.
What are federal agents doing to curb Chicago violence?
The Alcohol, Tobacco, Firearms and Explosives agents Trump sent into the city June 29 are tasked with helping local authorities to solve gun murders and hunt down gun traffickers, who have flooded the city with weapons purchased in neighboring states with less-strict gun laws.
They join the dozens of ATF agents who have been working in the city since November as part of an initiative created by then-President Barack Obama.
In a statement announcing the Chicago Gun Strike Force, Attorney General Jeff Sessions said the team consists of 20 permanent ATF agents, as well as six intelligence research specialists, 12 Chicago Police Department officers, two Illinois State Police officers and four National Integrated Ballistics Information Network specialists.
"The Trump Administration will not let the bloodshed go on," Sessions said in the statement. "We cannot accept these levels of violence."
Sessions also condemned sanctuary cities in the statement on Chicago gun violence, saying the Trump administration would "protect our citizens" instead of the "criminal illegal aliens who prey upon them."
Chicago is a sanctuary city.
As the Guardian noted, the strike force was planned before Trump took office. Experts say it may improve the situation, but is "hardly the bold play or broad panacea" the Trump administration has portrayed it as.
The White House blames Chicago's violence on "morality"
On Friday, White House deputy press secretary Sarah Huckabee Sanders attributed the city's violence to "morality."
"I think that the problem there is pretty clear that it's a crime problem," Sanders said in a press briefing. "I think that crime is probably driven more by morality than anything else."
In 2016, Chicago had more murders than New York City and Los Angeles combined. Still, it is "in the middle of the pack" when it comes to murders per capita, trailing cities like Detroit and New Orleans, according to a January study by the University of Chicago Crime Lab.
Father Michael Pfleger, a south side priest and activist, slammed Sanders in a Facebook post, saying the White House was judging Chicagoans despite never having "taken the time to come and talk to folks in the community about the violence."
"It's one thing to send out bizarre dysfunctional Tweets," Pfleger wrote. "But when the White House, which has never taken the time to come and talk to folks in the community about the violence now, makes a judgement statement about the character and morality of people in Chicago you have crossed the damn line."