DeVry students get $49 million in refunds — but for-profit universities are seeing a resurgence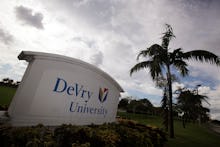 The Federal Trade Commission has begun mailing refund checks to students it says was hoodwinked by DeVry University's misleading promises about the value of a degree from the for-profit college, the FTC announced Wednesday. One of many schools targeted by the Obama administration for duping students, DeVry claimed that 90% of graduates actively looking for jobs were hired in their field within six months, according to the FTC complaint, and that graduates earned 15% more than those of all other colleges or universities.
The FTC said both assertions were false. DeVry has denied the allegations, but agreed to the settlement last December to resolve the federal allegations.
A total of $49.4 million will be distributed and 173,000 refund checks will be sent to students who enrolled at DeVry University to earn an associate's or bachelor's degree between January 1, 2008 and October 1, 2015. Eligible students must have earned at least one credit, and must have paid at least $5,000 to the school. Students who obtained debt or loan forgiveness as part of the settlement will not be receiving refund checks.
The money for the refund checks being sent by the FTC comes from a $100 million settlement announced in December of last year against DeVry. The remaining $50.6 million goes toward debt relief for students. The FTC had originally sued DeVry in January 2016, and both the FTC and U.S. Department of Education claimed the company, which operates 50 campuses nationwide and offers online degrees, had misled tens of thousands of students.
While the checks are good news for former DeVry students, problems in the for-profit education industry persist and students in the future may have a more difficult time obtaining student loan refunds thanks to regulatory rollbacks.
The latest blow to for-profit schools
DeVry's settlement with the FTC is hardly the first of its kind. In 2016, a San Francisco Superior Court ordered the now defunct Corinthian Colleges to pay $1.2 billion for false advertising and lending practices. "For years, Corinthian profited off the backs of poor people — now they have to pay. This judgment sends a clear message: There is a cost to this kind of predatory conduct," California attorney general Kamala Harris said in a statement after the judgment.
In 2015, another for-profit school, Education Management Corporation (EDMC) agreed to pay $95.5 million in a settlement arising out of allegations that the company — which is the second-largest for-profit education company in the U.S. — had been unlawfully recruiting students in what the Department of Justice called a "high pressure boiler room where admissions personnel were paid based purely on the number of students they enrolled."
President Donald Trump's companies also paid $25 million to settle allegations of fraud connected to Trump University, which NPR indicated had offered real estate seminars described by attendees as "worthless."
Despite the legal troubles, for-profit institutions are seeing a resurgence
Despite a series of legal set-backs, for-profit colleges — including DeVry — are seeing a resurgence, with stock values up sharply since the election.
"The perception of investors has been that the prior administration was really out to get the sector," Trace Urdan, a research analyst at Credit Suisse, told the Chicago Tribune. "Trump helps make these companies more investable because there is less concern that the government is trying to drive them out of business."
In 2011, the Obama administration began cracking down on the for-profit educational industry, investigating schools for luring students into debt they couldn't pay by making misleading promises. Since Trump took office, however, the outlook for the remaining for-profit education companies has improved, with DeVry, Strayer University, Grand Canyon University and Career Education all seeing substantial stock price increases after the November election.
This could be bad news for students, especially if they face a harder time recouping funds if they're defrauded because of regulatory rollbacks that could occur as early as this summer: Secretary of Education Betsy DeVos has described Obama-era rules protecting borrowers victimized by for-profit colleges as a "muddled process that's unfair to students and schools."
Sign up for The Payoff— your weekly crash course on how to live your best financial life. Additionally, for all your burning money questions, check out Mic's credit, savings, career, investing and health carehubs for more information — that pays off.