'Assassin's Creed' Netflix Anime: New series coming from 'Castlevania' creator Adi Shankar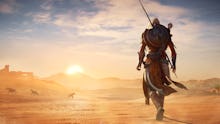 Netflix is producing an anime series based on the old Castlevania series of action-platformers. Someone has to keep the brand alive if Konami won't. It premieres Friday, which is useful because it will give us an idea of what to expect from Adi Shankar's next video game anime adaptation on Netflix: Assassin's Creed.
Adi Shankar producing Assassin's Creed anime series
According to Eurogamer, Adi Shankar is producing an anime series based on Assassin's Creed. That's all there is to say at the moment, as there is no information on who will be in it, what kind of story it will tell or how it will be distributed.
For the uninitiated, Shankar is a 32-year-old producing wunderkind with executive producer credits on movies like The Grey and Dredd. He's also heavily involved in the Castlevania anime series coming to Netflix this week, so that could be a decent idea of what the Assassin's Creed series will look like.
It will be interesting to see which historical period(s) are covered in the series and whether it bothers to include the present-day Abstergo stuff at all. Given the nature of the announcement, we probably won't see it until 2018 at the earliest.
More gaming news and updates
Check out the latest from Mic, like this essay about the sinister, subtle evils lurking in rural America that Far Cry 5 shouldn't ignore. Also, be sure to read our review of Tekken 7, an article about D.Va's influence on one Overwatch player's ideas about femininity and an analysis of gaming's racist habit of darkening villains' skin tones.