New Snapchat update lets you add backdrops, voice filters and outside links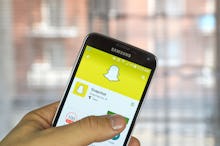 Snapchat unveiled a new update on Wednesday that allows users to add web links to their snaps.
The move was praised by publishers and marketers who have long cried for the company to add the ability to drive traffic to their sites or to other media.
Instagram offers similar capabilities on Instagram Stories, but only for verified business profiles with over 10,000 followers (a minuscule segment of the company's more than 700 million monthly active users).
Snapchat has rolled out the link functionality to all users along with a slew of other new features such as backdrops and voice filters.
To attach a link to one of your snaps, first make sure your app is updated. Next, tap the paperclip icon on the left-hand vertical toolbar. A new screen will pop up and allow you to add a URL.
This move signifies a big shift for Snapchat, which has previously remained a mostly closed platform for users. And while the move will definitely make influencers and marketers happy, it's probably useful for average snappers too.
For instance, you can now snap a pic of your food then link to the recipe, or link to concert tickets or a school event you're performing in, etc.
It's notable that while Snapchat allows external links to Instagram, Instagram has blocked all external links to Snapchat.
Mike Metzler, a Houston-based Snapchat influencer, said he's excited about the update and its potential for influencers and brands.
"This is a feature that is aimed for people who broadcast out to their following. It's very significant for influencers on the platform," he said. "I think with this new feature you will see a resurgence in Snapchat influencer campaigns as brands will now have the ability to gain a new metric from their campaigns using something like a bit.ly link."
"I'm not saying it's not useful for friends," he added, "but it's massively useful for influencers, and Snap hasn't rolled out any features that really help influencers out in a massive way like this."
Snapchat also rolled out several other new features in addition to external linking.
The new Backdrops feature allows Snapchat users to create background patterns around certain objects in their pics. To access Backdrops, tap the scissors icon in the vertical toolbar. Then click the new backdrop icon. Trace the objects you want to bring to the foreground then select a fun background design.
Snapchat's new voice filters also let users alter the way they sound. To access Voice Filters, first record a snap, then tap the speaker icon at the bottom of the screen. You'll be able to choose from an array of funny voices.
Finally, Snapchat also introduced its first in-lens game. It's a simple memory game that can be found by navigating to the face lenses within the app.
Instagram has yet to roll out any sort of in-app gaming; however, on-platform games have served as a huge revenue stream for Instagram's parent company, Facebook, in the past.
Snapchat has been under pressure from investors to successfully monetize, and it's likely that all these new features could be leveraged as ad products in the future.