The fascinating origin of lobster ice cream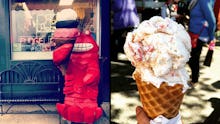 This week, Out of Office is celebrating all things ice cream. Follow along as we explore the sweet history and unexpected influences of America's favorite dessert.
In an age when charcoal black ice cream is just as common as rocky road, the idea of lobster-flavored ice cream may not turn many heads. But way back in 1988, putting seafood in ice cream was nothing short of extreme.
Still, one sweets shop in Bar Harbor, Maine, claims to be the first to mesh seafood with sweet frozen dairy, a tradition that trickles down to summer 2017, when scoops of lobster ice cream are sold alongside blueberry fudge and sticky taffy at an old fashioned tourist shop.
As legend has it, lobster ice cream made its triumphant (and cheeky) debut at Ben & Bill's Chocolate Emporium circa 1988, after a customer visited the shop and commented that the New England outpost offered every flavor except lobster ice cream. The manager at the time, William Coggins (the Bill in the shop's name) replied, "Come back tomorrow," and the ice cream — or at least the legend of the ice cream's conception — was born.
"The story may be apocryphal, but it does ring true to the nature of the manager at the time," current Ben & Bill's manager Roy Gott said via email (he told us he was overwhelmingly occupied making lobster ice cream during high tourist season and couldn't fit in a phone call). Gott believes Coggins wasn't aware of anyone else making lobster ice cream at the time, and noted that no one else successfully does this today. Ben & Bill's serves lobster ice cream at its two shops in Bar Harbor and Cape Cod, Massachusetts.
"The recipe is fairly simple," Gott said of the frozen concoction. The buttery vanilla ice cream is mixed with buttered lobster meat.
Though it's unclear how much the recipe has been tweaked since its original rendition, today's batches pack in 1.5 pounds of lobster meat (mostly claw and knuckle) in each two-gallon bucket of ice cream. The store sells more than 100 buckets each year.
No lobster bib necessary
Gott said there's no one best way to enjoy lobster ice cream — either in a cup or plopped on a cone will do — though he noted that cups are more popular for the seafood-rich scoop. "Given its uniqueness, the only way to get the unaltered flavor of the ice cream and lobster meat is with a [cup]." Still, a cone adds another element of crunch, something that those who prefer a lobster roll or lobster mac and cheese may appreciate.
Gott reported that most guests don't get toppings on their lobster ice cream, though combining it with a scoop of another flavor is common. The most interesting duo Gott's scooped out? Licorice and lobster to a man visiting from the Netherlands. (FYI, Ben & Bill's no longer serves licorice ice cream.)
Taste-wise, Gott said that most people assume the lobster ice cream will taste salty or fishy, but since the base is vanilla, it's overwhelmingly creamy and buttery — you don't taste any lobster flavor until you bite into a chunk of meat, similar to cookie dough in cookie dough ice cream.
"While the lobster itself is initially hard and frozen, after about seven seconds [in your mouth] it melts nicely and the flavor of buttered lobster comes through," Gott said of the experience of eating a scoop of lobster.
Tourist trap or local delicacy?
"Locals, I would say, have their own preferred methods for eating lobster," Gott said. "And it's usually not in ice cream."
Still, the scoop's decades-long success means the crustacean-laced dessert must have some merit. "It is a product which is more novelty-oriented and succeeds in drawing in quite a few people just for the experience of trying it," Gott said. "On the scale of 'repulsed' to 'enraptured', most people fall somewhere in the middle with comments like, 'it's not bad, it's just different' and 'nothing like I imagined.'"
The most common taste comparison after trying a few licks: frozen lobster bisque. "When people say it's gross without even having tried it, I ask how they eat their lobster," Gott said. "If they say in butter, I ask if they know where butter comes from. Butter comes from cream, the very thing these people are repulsed to find lobster in. Since most people eat their lobster with melted butter, to shun lobster in cream, albeit frozen, is slightly hypocritical."
A sample is the best way to determine if lobster ice cream is for you.
"Most people who try it don't follow up with an actual order for it," Gott said. "And some people order it without ever having tried it."
A top-selling flavor
While lobster is not Ben & Bill's bestselling flavor, it is not the worst-selling either. Gott couldn't provide exact numbers, but he said lobster is "one of our better selling flavors," but that's not just from TripAdvisor-guided tourists stopping in to Instagram the unique flavor. The shop ships wholesale gallons to Cousins Maine Lobster in California, a demographic much more accustomed to unusual flavors (see: Jewish deli-flavored ice cream sandwiches at Coolhaus in Los Angeles).
Still, Ben & Bill's can go through as many as six gallons a day, depending on the type of tourists in town. Some annual visitors "buy it religiously every time they're in town" as part of a summer vacation ritual Maine devotees aren't eager to give up.
Those who conquer a cone may be tempted to a buy a T-shirt boasting, "I tried lobster ice cream and survived" from the gift shop. The souvenir is a testament that lobster ice cream is, more than anything else, a scoop to lure in tourists as opposed to a elevation of Maine's most famous food product.