What Melania Trump wore her 24th week as first lady — Fourth of July and beyond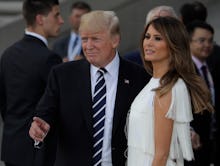 Ahead of America's birthday on Tuesday, first lady Melania Trump dressed with a particular patriotic flair, with lots of red, white and blue, and combinations too. Then for her trip abroad to Poland and Germany, Trump wore tons of bright colors.
Since moving into the White House three weeks ago, Trump has been noticeably more public, showing up at least three times a week as opposed to the weeks and weeks where she wasn't seen at all.
Here is what Trump wore this week:
Friday, June 30: A gingham skirt for leaving the White House
Trump wore a red and white summery ensemble to start this patriotic week off, leaving the White House in a white button down, white Louboutin heels and a red and white gingham skirt by Altuzarra.
The brand is headed by Joseph Altuzarra, who is Chinese-American and was born in France. Notably, Altuzarra was a favorite of former first lady Michelle Obama.
Tuesday, July 4: A blue-and-white number for Fourth of July celebrations
Amping up that subtle Americana theme, Trump wore a blue dress with a white ruffled hem by Esteban Cortázar — who was born in Colombia and moved to Florida — along with the same Louboutin pumps from Friday.
Wednesday, July 5: A sweater and plaid pant for leaving the White House for Poland
With Fourth of July done, Trump returned with her usual love of neutrals on Wednesday. For departing the White House and traveling to Poland, Trump emerged in a black sweater, wide-leg checkered pants by Valentino and a black crocodile Hermès Birkin bag.
Wednesday, July 5: A green coat ensemble for disembarking in Poland
Later that day, Trump re-emerged in a bright green suede trench coat dress by Diane von Furstenberg with a DVF scarf tucked into the top.
Thursday, July 6: A bright, patterned dress for Poland
It's almost like Trump tries to put on a more obviously exciting fashion show when she is abroad with her husband.
For meeting with Poland's first lady and then arriving in Germany on Thursday, Trump wore a navy blue dress by Delpozo, a Spanish label, which had a graphic, pop art-inspired design near the hem in red, hot pink and blue.
She also wore bright purple Manolo Blahniks.
Friday, July 7: A white fringe dress for the G-20 Summit in Germany
After struggling to escape the G-20 protests in Hamburg on Friday, Trump finally showed up to a concert with her husband wearing a sleeveless white fringe dress by Michael Kors. As per usual, she wore white Louboutin heels, which appear to have a python pattern.
The look is a departure from what we usually see from Trump here in the United States, with a much more youthful flair.
You can see previous recaps of what Melania Trump wore here.