Chicago public schools to withhold diplomas if students don't have job, college or military plans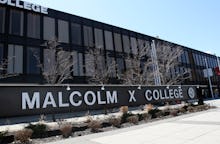 Mayor Rahm Emanuel announced that Chicago will be the first big city to require high school students to have a job, college acceptance letter, gap-year program enrollment or military enlistment before receiving their diploma. And now, detractors are questioning if the new requirement is possible.
The measure, passed by the Board of Education in May, will affect current sophomores graduating in 2020. Critics of the ruling — like Karen Lewis, the president of the Chicago Teachers Union — have pointed out some of the major flaws.
"It sounds good on paper, but the problem is that when you've cut the number of counselors in schools, when you've cut the kind of services that kids need, who is going to do this work?" Lewis told the Washington Post. "If you've done the work to earn a diploma, then you should get a diploma. Because if you don't, you are forcing kids into more poverty."
Chicago high schools have undergone drastic staff cuts in recent years. In 2016, more than 1,000 teachers and staff members were laid off. And in the city's poorest schools, guidance counselors are assigned to more than 450 students each.
"If you change expectations, it's not hard for kids to adapt," Emanuel said during an April news conference. He also said the policy was created in an effort to make sure students think beyond the four years of high school.
Emanuel is supported, in part, because all Chicago Public School students automatically gain acceptance into the City Colleges of Chicago. But due to budget cuts and inadequate staffing, these institutions might not be able to accommodate the new measure.
"It's going to be really hairy for the community colleges if a high percentage of these kids actually show up, because they're going broke," Rodney Estvan, an education policy analyst at the Access Living disability rights group, told the Chicago Tribune.
For now, Emanuel expects the next two years are enough for high schools to adjust to the change. In the meantime, he's working with the school district to raise $1 million from donors to help school counselors achieve the training they need to help make the program successful, according to the Tribune.