Viktor & Rolf's Paris Couture show had models walking the runway with massive doll heads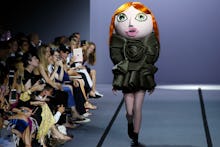 Well this is one way to get our attention.
At the Viktor & Rolf show at Paris Couture Fashion Week on Wednesday, models walked the runway in voluminous coats with wild patterns and quilting.
Oh yeah, and some wore rather jarring, massive heads, which look to be crafted from felt, paper and hair, and made the models look like wide-awake dolls.
Think Bratz dolls, but life-size and a little more intimidating and chic.
The heads are rumored to be an ode to Frank Sidebottom, a character created by Chris Sievey, an obscure English musical artist and comedian who was known for wearing a massive papier-mâché — and then fiberglass — head.
While this could be written off as a rather hokey way to create press, we do have to give Viktor & Rolf some credit in that 1) the heads are super diverse to go with the models and 2) they're kind of... cute?
Like, what an inventive and strange way to get people to care about your clothes.
In a fashion world where designers have made models walk down the runway carrying other humans like backpacks, and strut the runway with their genitalia exposed, this seems like a rather adorable stunt that really does show just how far designers will go to grab your attention.
And yeah, we can say that it definitely worked.