10 underrated Nintendo Switch games you need to try right now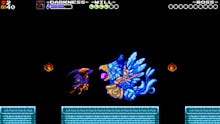 The Legend of Zelda: Breath of the Wild and Mario Kart 8 Deluxe are great. Arms is also a lot of fun. However, a video game console can't survive on big games from the company that makes it alone. It needs a solid stable of great, smaller games to be worth buying.
Thankfully, Nintendo Switch is already well on its way to becoming a great place to play these kinds of games. Below a list of the best Switch games — aside from the heavy hitters listed above, of course.
1. Shovel Knight: Treasure Trove
Shovel Knight was great back in 2014, and it's still great now. With the addition of the Plague Knight and Specter Knight campaigns, Treasure Trove is a hell of a package featuring the classics of the 8- and 16-bit eras. If you like a reasonable amount of challenge, interesting customization options and great music, this is a game you should check out.
2. Thumper
Thumper is straight-up one of the most stressful games I've ever played. It's a rhythm game where you play as a music beetle careening down a track while hitting notes, drifting through corners and jumping over obstacles. It requires a great deal of precision without being too punishing, and the intense audiovisual experience it provides is like none other.
Though the Switch version came out several months after the PS4 and PC versions, it's identical, sans VR support. This is a great way to play Thumper.
3. Snake Pass
If you're looking for something a little more low-key, Snake Pass might do the trick. It looks like a modern, gorgeous Nintendo 64 game in which you play as the world's happiest snake while he navigates levels and collects gems, coins and other shiny items. You have to use realistic snake physics to make him slither and coil around the game's jungle gym levels, which is difficult but satisfying to pull off.
4. Mighty Gunvolt Burst
Mighty Gunvolt Burst puts the protagonists of Mighty No. 9 and Azure Striker Gunvolt together into a surprisingly cool retro platformer. It's basically an old-school Mega Man game with the unique ability to deeply customize your weapons. You can choose between different elements, ranges, velocities and more to craft the perfect shot for any situation.
5. Jackbox Party Pack 3
If you want a fun party game that's easily transportable, look no further than Jackbox Party Pack 3. It's a collection of five goofy games that can all be played with smartphones, so there's no need to bring a bunch of controllers. My personal favorite is Tee K.O., where you and your friends compete to make the dumbest T-shirts.
6. Cave Story+
Cave Story has been released a ton of different ways over the years, originally appearing as a free PC game back in 2004. This is a Switch version of the enhanced port that made the rounds on a variety of platforms in 2011. It's a beloved indie action platformer in the same vein as something like Metroid, where upgrades are scattered around the world for players to find. If you haven't played it yet, here's a good excuse to do so.
7. The Binding of Isaac: Afterbirth+
The same goes for The Binding of Isaac: Afterbirth+, a randomly generated top-down action game originally released in 2011. If you can get past the gross-out visuals, the addictive upgrade loop and nonsensical amount of content that has been added over the years will keep you coming back. Seriously, I know people who have put hundreds of hours into The Binding of Isaac.
8. Snipperclips
Snipperclips launched with the Switch in March, but didn't get nearly as much attention as Nintendo's other heavy-hitter, Breath of the Wild. It's one of the cutest and most clever games Nintendo has made in a while. Two players team up as little paper people cut pieces out of each other to solve puzzles. It's a perfect co-op game without much in the way of stress or punishment.
9. Tumbleseed
Stress and punishment are two core tenets of Tumbleseed. It's a beautiful roguelike where you use only the shoulder buttons to tilt your seed left and right, collecting power-ups and changing forms along the way. The controls have a serious learning curve and it's very easy to die in just a few seconds, but the visuals are lovely and it makes great use of the Switch's HD Rumble feature.
10. Wonder Boy: The Dragon's Trap
Wonder Boy: The Dragon's Trap puts shiny visual and audio filters over a Sega Master System classic to great effect. A remake of Wonder Boy III, it's an exploration-heavy action-platformer in which you're cursed to change into different forms to tackle varied challenges throughout your adventure. The new visuals and music are breathtaking, but it's just as challenging and occasionally obtuse as the old game it draws from.
More Nintendo Switch news and coverage
Looking for more Nintendo Switch news? Check out how blind gamers are using the Nintendo Switch. Nintendo's left Joy-Con issue turns out to be a hardware problem — here's how to solve it. Find out how to buy a console amidst the recent restock. Learn why the Switch cartridges taste so bad. Check out our comparison photos sizing up the Switch to the Wii U GamePad (part one and part two), or find out how to make use of ethernet without the dock and the best way to get alerts when new stock arrives.