What is the G20 Summit? 3 things to watch as President Donald Trump heads to Germany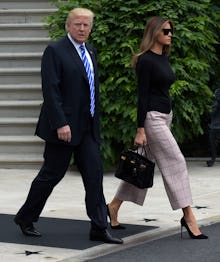 On Friday, leaders from the world's top economies, represented by 19 countries and the European Union, will meet to discuss global financial stability at the 2017 G20 summit. Germany will host the summit this year.
The forum initially included only finance and banking leaders when it was established in 1999. It began including state leaders in 2008, following the collapse of Lehmen Brothers and ensuing financial crisis.
The G20 describes itself as an "informal forum." It does not have any executive powers or produce resolutions that are binding. Leaders meet to discuss ways forward on pressing global concerns and achieve compromises designed to maintain or increase global stability.
Over the years, the scope of the G20 has expanded well beyond economics. According to the G20, it has become an "holistic forum for global governance with an all-encompassing agenda."
Climate change takes center stage
A draft conclusion obtained by a G20 source outlines an agreement to collaborate through innovation to reduce carbon emissions, according to Reuters.
President Donald Trump's decision to remove the U.S. from the Paris Agreement is reportedly "acknowledged."
"The United States affirms its strong commitment to a global approach that lowers emissions while supporting economic growth and improving energy security needs," the text also adds.
Japanese Prime Minister Shinzo Abe published an editorial in German newspaper Handelsblatt ahead of the summit imploring member countries to continue collaboration on policies to protect the climate.
"Global warming has already resulted in the Earth, which sustains human life, experiencing various crises for a long time," he wrote.
Trump meets Putin for the first time as president
Amid controversies surrounding alleged contacts between Russia and the 2016 Trump campaign, along with U.S. intelligence findings that Russia engaged in a campaign to sway the U.S. election, the two men will meet face-to-face in Germany.
The New York Times reports that aides are concerned about Trump's scheduled meeting with Putin, despite the president receiving multiple briefings.
Trump's unpredictable behavior leaves advisers concerned he may do or say something that invites increased scrutiny over his relationship with Russia, an unwelcome subject that's followed the president through his first months in office.
Protests expected to turn violent as demonstrators clash with police
Police already turned water canons against anti-capitalist protesters and the summit hasn't even begun. According to Reuters, protesters will number in the tens of thousands.
According to the German interior minister, authorities expect 8,000 of those protesters to be a credible violent threat. Approximately 20,000 police officers will be present.
The Guardian reports,
German police have seized knives, baseball bats and containers presumed to be filled with flammable liquid and unknown chemicals from various locations in and around Hamburg. Jan Hieber, a senior officer, said police had probably only found a small proportion of the weapons that had been stockpiled for use in the protests.
Some residents believe that police tactics against peaceful protesters have actually escalated the tensions in the region.