The escapist history of tiki bars — and why this cocktail trend will never go away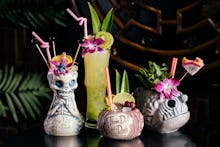 Tiki bars can conjure up the image of plastic palm fronds, kitschy decor and sugary slushies. But the retro cocktail trend, which took off in the sixties, once ruled the nightlife scene by providing Americans with an escape from the plummeting stock market and the stress of World War II-era life. While bad tiki can easily go wrong, talented bartenders are restoring this tropical obsession — with the music, style and culture that comes with it — to its former greatness.
The historic origins of tiki
According to San Francisco-based bar owner Martin Cate in the book Smuggler's Cove, tiki was the brainchild of one man: Ernest Raymond Beaumont Gantt, better known as Donn Beach. Originally from Louisiana, Gantt grew up sailing to distant lands with his grandfather, a bootlegger, later settling in Los Angeles and opening his groundbreaking bar, Don the Beachcomber, in 1933.
Decorated with island treasures like Polynesian idols, nautical blown glass balls encased in fishing net and salvaged bamboo furnishings, the bar charmed curious locals and A-list celebrities with its lavish tropical concoctions in a pared-down atmosphere, a refreshing change from the martinis and Manhattans that dominated most drink menus. And though the concept was an incohesive, inauthentic amalgamation of many different island cultures — Filipino bartenders serving Cuban rum mixed with Indonesian coconut milk in a glass modeled after the heads of Easter Island — the people drank it up.
"This was the mid-1930s, during the Depression, when international travel was out of reach for the average American. No one in Sumatra, Rangoon or Tahiti really drank anything like this, but no one could afford to visit these places to find out the truth," wrote Cate. "The tiki bar was where you could loosen the tie and let the rum wash the worries away."
As a result of Don the Beachcomber's success, tiki bars spread throughout the country. The Bay Area's Trader Vic's, with its eventual string of upscale hotel-based franchises, was the most well known, but copycats popped up in cities as far-reaching as Columbus, Ohio (Kahiki Supper Club, now exclusively a frozen food line), New York (Hawaii Kai, shuttered in the early 1990s), Florida's Fort Lauderdale area (Mai-Kai) and Detroit, Michigan (Chin Tiki, which closed in 1980). And although these bars continued to draw crowds, by the early 1970s, tiki was beginning to lose its spark.
"The tiki bar was where you could loosen the tie and let the rum wash the worries away." — Martin Cate
"What once seemed like charming naiveté about island peoples and cultures now seemed, to a generation raised in a more globally aware world, to be at best patronizing or inauthentic, and at worst simply racist," wrote Cate. Even Donald Trump, who purchased the Plaza Hotel in 1989 and immediately ripped out its iconic Trader Vic's, called the genre "tacky."
Tiki's impressive staying power
In recent years, the bar industry has shifted away from two-ingredient cocktails and pricey bottles in clubs and back to serving elegant, time-honored concoctions handcrafted with ingredients made in-house. Leading bartenders like NYC's Jim Kearns (a veteran of Julie Reiner's Pegu Club) and Sam Ross (Attaboy), Chicago's Paul McGee (The Whistler) and L.A.'s Austin Melrose and Zach Patterson (Melrose Umbrella Co.), who championed the revival of classic cocktails, found themselves looking elsewhere for inspiration. Intrigued by tiki's complex, layered flavors and unconventional presentations, those same classic cocktail wizards were trading in their egg whites and suspenders for rhum agricole, pineapple juice and upbeat Tahitian patterns, resulting in incredible drinks served with a heaping side of fun.
"Classic cocktails, they're a great underpinning for anything you want to do," Kearns, now the bar director and partner at Manhattan's '40s-themed Slowly Shirley, said during a visit to his swanky new spot. "It's like music theory. If you want to play free jazz, you're probably going to be a lot better if you know [the essentials]. It's the same with cocktails — if you learn how things function, ideally over the extent of years, then you can start to say, 'OK, if I swap this out and add this to it and put a plastic shark and some blue Curacao in it …'"
Part of tiki's charm is how visually appealing the drinks are — bursting with color, personality and outlandish-ness. "There's kind of that camp of a drink coming in a bowl that replicates the kava bowl of Polynesia. It's just special," said Eve Bergeron, who oversees public relations for Trader Vic's, in a phone interview. "It's a seriously handcrafted drink, but it's got this element of fun."
But these noteworthy mixologists weren't just following traditional tiki recipes — they were giving the style a 21st-century makeover. "There should be a place where you can get a [tiki-style] demerara dry float treated the way [game-changing NYC cocktail hub] Milk & Honey treated the Aviation," said Slowly Shirley bartender Garret Richard over cocktails. He was referencing the classic Aviation, made with gin, crème de violette, lemon juice and maraschino liqueur, which was first recorded by Hugo Ensslin, head bartender at NYC's legendary Hotel Wallick, in 1916. "We wanted to give it context — we'll take two [tiki] classics, and then we'll do two riffs just to contemporize them. It adds up being, at the end of the day, a nice little tome that gives people a little yesterday and a little today."
Richard now runs Slowly Shirley's wildly popular Exotica, a monthly bash featuring original and classic tiki drinks, live music and period-inspired performances. "That was a dream of mine for awhile, to do something where you recreated the whole '60s experience — the music, the fashion, contextualizing all the cocktails," said Richard.
Kevin Beary, the beverage director behind Chicago's award-winning Three Dots and A Dash, similarly sees these neo-tiki bars as part of a larger narrative rooted in a respect for the genre's deeply rooted history coupled with a 21st century perspective toward cultural sensitivity. "Tiki drinks were always inventive. They pushed the limits of flavors and presentations," said Beary in an email interview. "We wouldn't be having this conversation if it wasn't for the badasses of the 1940s. Most of the modern tiki bars are very good about crediting cocktail recipes and their origins. It's hard to appropriate a culture that was made up in first place, so I think it just keeps evolving."
"It's hard to appropriate a culture that was made up in first place." — Kevin Beary, Three Dots and a Dash
Why we turn to tiki in 2017
Considering its plight, tiki's endurance is nothing short of impressive. From Depression-era hitmakers like Don the Beachcomber and the original Trader Vic's to imitations like Disney's Polynesian Resort to sophisticated innovation in cities like New York and Chicago, Americans never seem to truly lose interest in getting a taste of this flashy fictional paradise.
"With the news cycle and social media being what it is, it's nice to enter a space where you don't have to worry about the outside world. You can just focus on the people you're with or your interaction with your server or just what's in the glass in front of you," said Richard. "I think the more connected we are, the more we just want to disconnect, especially at a bar. For the original people going to tiki bars, it was disconnecting from World War II or the Cold War, and for us, it's disconnecting from technology."
Correction: July 6, 2017