Jay-Z's '4:44' isn't a transformation — he's always blended family and business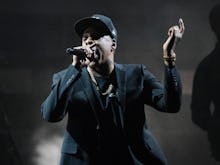 On a particularly redemptive moment from his newest album — the Sprint-approved, No I.D.-produced 4:44 — Jay-Z quips, "The spiritual shit really work."
This is a man who, on the legendary intro to 2000's The Dynasty: Roc La Familia, rapped: "Never read the Quran or Islamic scriptures/ Only Psalms I read was on the arms of my niggas/ Tattooed/ So I carry on like I'm nonreligious." In the 17 years since, he has retired and un-retired, put out two critically adored albums and three reviled ones, married someone whose star caught and surpassed his own, cheated on her, got reamed out on HBO and on record for cheating, had kids and tried with all his might to stake out a space in the music industry's new economy. His 13th solo album, 4:44 is about family and love and entrepreneurship, but it's anchored by a very specific sort of faith.
Jay's new mysticism is devoutly and unshakably capitalist. It's all over the record: On "The Story of O.J.," he laments not buying buildings in gentrifying Brooklyn; on "Family Feud," he says Beyoncé is at home "feeding the kids liquid gold" and chastises me for drinking something called Perrier-Jouët (a champagne I can't afford anyway) because it's a competitor with Armand de Brignac, a champagne that Jay-Z owns. There are scoffs for everything from convertibles and town cars to art auctions; at one point, the 47-year-old Jay says, "financial freedom my only hope."
The reverence for American dollars and the kinds of freedom they allow runs deep — even into the afterlife. There's an entire verse on the Frank Ocean-assisted "Caught Their Eyes" about Prince and the legal battle over his catalog. (Starting in 2015, Prince's music was available exclusively on Tidal, the streaming company Jay-Z owns; after the Purple One's death, Prince's family sued Tidal in hopes to make his music available across all platforms.) Jay doesn't mince words: "This guy had slave on his face/ You think he wanted the masters with his masters?/ You greedy bastards sold tickets to walk through his house/ I'm surprised you ain't auction off the casket." Elsewhere, on album closer "Legacy," Jay's 5-year-old daughter asks him, "Daddy, what's a will?"
It's easy — and maybe fair — to read Jay's wealth talk as vain, shortsighted or even boring. You don't have to have a Ph.D. in sociology to know that financial gain will not necessarily reverse white supremacy. But it's important to consider the arc of Shawn Carter's life. None of this came easily: He lived in public housing, sold crack through his mid-20s and all the while was watching friends and family members lose their freedom, their health or their lives. His debut album as a solo artist, 1996's Reasonable Doubt, didn't come out until he was 26. He fought his business partner, Dame Dash, for ownership of Roc-A-Fella Records; he fought to make Rocawear a profitable enterprise; he fought for everything he wanted, and he won. He made capitalism work for him.
Now that he's staring down his 50s, the things Jay-Z wants have changed — reconciliation with his family tops the list, but the financial goalposts have moved as well. He's wrestling with matters of the soul, but those matters are usually measured in terms of capital. Sometimes this rings true: the image of Jay waving off a bottle girl toting Belvedere and summoning some Cîroc — so he can put money in Puff's portfolio — reads like a sincere love for black-owned businesses and for keeping money within various black communities. But at other points (see: Perrier-Jouët), Jay's salutes to wealth seem gauche to anyone without commas in their bank account.
Over the course of 4:44, it's suggested that Jay sees this sort of social Darwinism not as a crude system to be exploited, but as an appropriate order for the world. There's a moment where he actually says, "Blood diamonds dripping with guilt, I still ain't trippin'/ That's life: winners and losers." He doesn't seem to be assigning moral weight to the wins and losses; he's simply acknowledging the result and handing the jeweler his AmEx. It's distinctly and uncomfortably American.
None of this is to suggest that Jay is naive to the systems at work to keep entire races under the country's collective thumb. "The Story of O.J.," the song where Jay wishes he bought a building in DUMBO instead of an array of sports cars, is actually a pointed comment about the permanence of race — about how, despite all of the money and awards and Brentwood estates, white America sees black Americans as something other and lesser, and how that feeling manifests in police procedure, sentencing laws, housing policy and more. "Light nigga, dark nigga, faux nigga, real nigga/ Rich nigga, poor nigga, house nigga, field nigga/ Still nigga." He's approached these ideas before, like on 1999's "Come and Get Me." ("You know normally them people wouldn't be fucking with you.")
Another way to order and organize Jay-Z's career is as a series of ego deaths. Think about the ways Jay has deliberately morphed his public persona: Before Reasonable Doubt, he was feeling around in the dark for a style that suited him; when the album came, he played the part of the drug dealer making a record during his downtime between runs to Virginia. By 1998, when he refined his pop chops, he ruled radio and MTV; on "The Bounce" and "Moment of Clarity," he stressed that he was actually much deeper than naysayers insisted and was simply fooling you to keep the registers ringing. He had the umlaut, then dropped the umlaut, then said, "Back to Shawn Carter the hustler/ Jay-Z is dead," then went to all caps, then lost the hyphen and finally got the hyphen back. No Jay-Z album has been complete without a comment on past Jay-Z albums and past iterations of Jay-Z; his second album opens with a string of questions about rap sheets and his label's solvency.
In that sense, 4:44 is indeed a radical step forward. After Lemonade, it was widely assumed that Jay would speak on his infidelity, but the psychic torment of the title track here is still something to behold. Jay seems to genuinely doubt that he will ever be quite good enough for Beyoncé and their children, which is perhaps a driving force for that accumulation of capital — money's measurable and unambiguous. 4:44 opens with "Kill Jay-Z," a song explicitly about the deconstruction of persona. There are references to therapists; fame is at once more taxing and somehow smaller than it was made to sound on cliched dreck like "Holy Grail," the Justin Timberlake-saddled single from Jay's previous album, 2013's Magna Carta Holy Grail.
The Jay-Z of 4:44 is vulnerable in unexpected ways, even revealing that his mother, who has previously served as a narrative voice on his records, is a lesbian. (Gloria Carter finishes the Stevie Wonder-sampling "Smile" with a spoken-word poem about living in and out of the shadows.) The problem with the album is a structural one: Many of these songs sound like actual therapy sessions, notable for their candor but also for their disorganization. The LP often feels like a data dump, where verses are deeply felt but overstuffed with information, lacking the framework of "Heart of the City" or the pacing of "Dead Presidents II." Many of Jay's sentiments here stick in the mind, but few of the songs will likely figure prominently in his catalog, or even in summer playlists outside of the Tri-State area. Contemporary critics appear to value concision over nearly everything, but it seems obvious that Jay could have used more than 10 tracks and 37 minutes to sort through all of his ideas on love, family, business, race and generational wealth.
For his part, No I.D. crafts something that is delightfully lacking sheen, full of rough edges and obvious seams. Ironically, the sample budget must have been astronomical: Stevie, the Fugees, Alan Parsons, Nina Simone twice. The beats are spare and purposeful, yanking Hov far from the staid songs of Magna Carta or the Steve Buscemi-in-30 Rock overreaching heard on 2009's The Blueprint 3.
As a rapper, Jay has spent two decades nearly peerless: Not only is he one of the greatest rappers to ever live in the holistic sense, but he's also a superb technician who at times has been genuinely experimental. He sees his best results here on songs like "O.J." and "Legacy," when he raps at a conversational pace. On "Family Feud," when he realizes he missed the familial themes of his favorite mob movies ("I watched Godfather, I missed that whole shit"), it's the grinning, sarcastic Jay who used to peer into caskets and crack — "Look at him, still sleeping." And "Marcy Me," a quiet remembrance of his childhood in Brooklyn, has show-stopping passages, where Jay's raw talent and mind's eye combine for something truly singular: "Y'all flirting with death/ I be winking through the scope."
It would be a misreading of Jay-Z's work to see 4:44 as a complete departure. His skill has always lied in distillation and translation: making club songs smart, making smart songs knock. In doing so, he's tapped nearly every part of his personal life and soul. Here, he raps, "I turned my life into a nice first-week release date." In '96, he was urging listeners to buy, rather than lease their cars; in '97, he was opening up about shooting his brother, strapping bricks to his girlfriend's thighs and selling crack to his immediate family. This philosophy of personal betterment through the accumulation of wealth is not necessarily sound advice for others, but one would be hard-pressed to argue that it isn't a coherent worldview for Jay-Z given his life and experiences. Harder still would it be to argue that he has not fleshed out this perspective with color, detail and psychological trauma, both here and in previous, less concentrated doses.
The song that works best on 4:44, the Sister Nancy-sampling, Damian Marley-featuring "Bam," sees Jay flit between monikers and lapse into some serious slick talk (the Biggie-nodding "So when you get to hell, you tell 'em Blanco sent ya"). "Bam" doesn't come from the middle-aged, introspective Jay-Z who acquits himself adequately on the other nine tracks. This Shawn Carter is meaner and funnier and smoother and nicer. A therapist would frown, but as Hov himself raps, "Sometimes you need your ego, gotta remind these fools." He's always at his best when he blends those identities, the way "Hard Knock Life" is painfully nostalgic and triumphant all the same.
4:44 isn't an act of synthesis; it's a bloodletting. Even when Jay's rattling off life advice or shuffling papers at the wealth management office, he sounds hurried to unburden himself of the information. It follows the longest gap between albums of his career, and yet feels like the work of an artist who's on the cusp of figuring out what he wants to say: about love, about fatherhood, about entrepreneurship. It's missing the spontaneity and dynamism of his best records — not to mention the hits. When it succeeds, it does so in its loosest moments, like that little, laughed "OK" at the start of "The Story of O.J." Jay's no longer the Best Rapper Alive, but he might be our greatest living rapper, and even a transitional work has enough arresting moments to merit close attention. Peeling back identities — killing egos — is revelatory, valuable, healthy. The next step will be watching as Mr. Carter puts the pieces back together.
Mic has ongoing music coverage. Follow our main music hub here.