Democrats are getting absolutely roasted after asking people to vote on four bad sticker ideas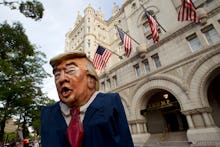 The Democratic Congressional Campaign Committee is having a bad day after asking the public to vote on one of four lackluster sticker designs, all of which Twitter promptly concluded practically screamed, "We're not trying."
Choices included "Resist & persist," "She persisted / We resisted," "Make Congress blue again" and the decidedly eye-rolling "Democrats 2018 / I mean, have you seen the other guys?" — the last of which attracted particular ire from progressives who think Democrats have failed to rally around a core message beyond saying Republicans are worse.
The quality of the stickers wasn't really the point so much as settling scores over Democrats' stunning losses in recent elections, from Hillary Clinton's shocking 2016 presidential loss to Donald Trump to every special election so far this year. Anger from the repeated defeats and claims of Democrats' ineffectual handling of the elections might explain the relentlessness of the subsequent trolling.
The National Republican Congressional Committee, the DCCC's counterpart, also responded to the sticker controversy by taunting Democrats — though their version was perhaps not much better.
"Democrats 2018 / We win moral victories, not elections," the NRCC wrote, perhaps tacitly suggesting Republicans only had an interest in the latter.