Best jobs for people with pet peeves: 15 top gigs if you hate office work, waking up early and more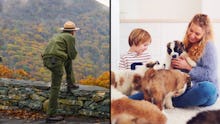 Every job has its drawbacks. Rock stars who enjoy fame and riches report getting sick of playing the same songs over and over again. Being a pro athlete is nice — except for the part where you're expected to play on holidays. The truth is that finding your calling is just as much about figuring out what you don't want to deal with as it is about discovering what you love.
And finding the right career path is already tough enough: Fewer than half of high school graduates said in a recent survey they know what sort of jobs their skills are suited for. So how do you sort it all out — and end up happy?
First, take a glance at the Payoff's ultimate 2017 career guide, full of tips on how to find a dream job that matches your skills, get paid more, and deal with the manifold workplace challenges that are inevitable in every career. Then check out the list below, a compilation of jobs across many different industries that will appeal to people with common pet peeves — like those who loathe waking up early, dislike chit-chat, or hate being cooped up indoors.
Many of these gigs require minimal qualifications, like a high school diploma, or a certificate — though if you want to gain the experience to charge bigger bucks, you'll need to put in the time to learn the ropes. Still interested? Here are 15 jobs perfect for people with very particular peeves.
Best jobs if you hate staying in one place
Desperately want a change of scenery? Itinerant souls should consider these cool gigs — which you can do all over the world.
1. Housesitting
Whether you're looking to defray travel expenses this summer by scoring free accommodations abroad, or are looking for a full-time job in an interesting locale, housesitting can pay well, depending on your duties. In fact, more labor intensive housesitting gigs can pay up to the low six figures. Not too shabby!
Many of the best-paying housesitting gigs tend to be located in remote areas, but you can use sites like the Caretaker Gazette, MindMyHouse or HouseSitter to find a listing that works for you. And if you really want to get away, you might look into the related field of private island caretaking.
Median income: $12.29 per hour, according to PayScale.
2. Cruise ship work
Cruise ships like mini floating hotels employ all kinds of people from bartenders to blackjack dealers. Insiders warn that the hours are long and workers typically do seven-day weeks for the duration of their contracts. On the flip side, they often earn comparable wages to what they'd earn on dry land — without having to pay for room and board. You can apply directly for cruise liner jobs at the major providers, or through an aggregator like Cruise Ship Jobs.
Median income: Varies widely based on the role, but the median pay for an event planner is $19.43, according to PayScale.
Best jobs if you hate chatting all day
Does talking for hours sound like your personal hell? Constantly gabbing with bosses, clients, co-workers and partners can be exhausting, especially if you are a bit of an introvert. These jobs give you a break from all that jabber.
3. Taking care of animals
If you love animals and are deft with a pooper-scooper, full-time pet sitters can make more than $3,300 a month according to the New York Post. Even part-time pet sitters can earn as much as $900 a month through pet care marketplaces like Rover and Fetch. You can also pad your income even more by offering some add-on services, like training, extra walks or baths — or consider working with more exotic animals, as a zookeeper.
Really love critters — but also love getting paid well? If you're willing to put in the time for the degree, veterinarians typically make a solid six figures.
Median income: $13.17 per hour for dog walkers, according to PayScale.
4. House cleaner
Don't turn your nose up! If you have good attention to detail and don't mind expending a little elbow grease, part-time house cleaners can make about $1,000 a month with just 11 to 12 hours a week, depending on your rate and your overhead. House cleaning is a physical job and involves a lot of hard work, though you won't typically be required to have a high school education.
One pro-tip? Get yourself insured, which could cost up to $300 to start but will protect you in case something happens in someone's home, and make you look more professional. If you're insured, you might also be able to work with banks cleaning out foreclosed homes, which can pay more generously: between $500 and $2,500 per house.
Median income: $14.60 per hour, according to PayScale.
5. Movie theater worker
Working in a movie theater can be a pretty sweet gig, especially in the summer when you can enjoy free blockbusters and bountiful air conditioning. You can apply for jobs at the biggest chains (which control more than half the industry) through their corporate sites. AMC Entertainment, Regal Entertainment and Cinemark are the largest players, but you may also have other smaller local providers in your area.
Expert tip: For slightly better pay, look for gigs as a projectionist, which also means less time chatting with customers and more time helping to screen (and getting to watch) movies. You will need technical skills, however.
Median income: $13.49 for projectionists, according to PayScale.
Best jobs if you hate leaving your house
If the idea of working in your pajamas on your couch sounds ideal, consider the gigs below — which allow for remote work — and check out the Payoff's 2016 list of top flexible jobs, while you're at it.
7. Transcription
Transcription is a hallmark job for the work-from-home-crowd because transcribers can make between $15 and $25 per hour, and even more if you develop some sort of expertise, like legal or medical transcription. Flexjob compiled a list of 100 reputable transcription services, which include blue-chip companies like Xerox.
The downside? Transcription can be tedious, depending on the length of the recording, although there are a lot of tools that can make the process a little easier. If you're planning on putting serious time into your transcription work, you may want to invest in a food-pedal and transcription software to help speed tasks along.
Median income: $15.18 an hour, according to PayScale.
8. Content writer
There are lots of ways to make money off the internet that don't require learning how to code. Indeed, thanks to affiliate marketing, even amateur bloggers have been able to pull off six-figure annual earnings by being consistent and growing their audience over time. Marketplaces like Contently, Fiverr and Crowdsource make it relatively easy to line up part-time jobs writing blog posts for brands, designing graphics, moderating comments and more.
Making money on the internet is simple enough if you work with a third-party company like Etsy that connects you with customers — but you can make far more by breaking out on your own. Making a full-time living making Instagram posts or YouTube videos will require work and dedication, but these nascent fields are netting people up to seven-figure salaries if their following is large enough. Here are some guides on how to get started.
Median income: $15.22 per hour, according to PayScale.
Best jobs if you hate being cooped up indoors
Desperate for more fresh air in your life? These gigs let you enjoy nature and the great outdoors — nary a stapler to be seen.
12. Ski or surf instructor
For people who love the outdoors, working as a ski instructor is "as much fun as you can have in life," one instructor told the Independent, although they also caution it's a physically demanding job. You'll also need to find a separate gig for the offseason, although ski instructors say this is getting easier as winter resorts have strived to find ways to stay open in the summer, for instance by offering other activities like mountain biking and hiking.
If you have the skills, you might also consider becoming a surf instructor, which requires some certification, but can be incredibly satisfying and allow you a flexible schedule while you potentially earn $15 to $20 an hour.
Median income: $15.13 per hour for ski instructors, according to PayScale.
13. National parks worker
Working in the national parks system is sort of the dream for people who love to hike, thanks to the reasonably high pay and great government benefits. The National Parks Service alone employs some 22,000 people, according to the NPS website, with varying levels of experience required. The drawback? Park rangers usually double as law enforcement officers, meaning certifications or even a bachelor's degree will be required to make turn the job into a career, and the job can also be dangerous.
Median income: Up to $17.02 an hour, depending on the role, according to PayScale. Accredited park rangers earn up to $24.01 per hour.
Best jobs if you hate the drudgery of adulthood
Those wistful for the magic of childhood, but wary of the exhaustion and low pay that comes with being a teacher in the United States, might consider different lines of work that still allow you to interact with kids. These gigs let you nurture and educate children and young adults — on your own terms.
9. Nanny
Yes, we all know parents can be nightmares. But if you are super selective about your employer — and offer the qualifications to justify it — nannies or au pairs can actually make some serious money: up to $180,000 a year, per one New York Times story.
Of course, those nannies are bringing some serious skills to the table, while working for the wealthiest families in the country. You'll need to show or develop credentials to earn that kind of cash, but you can get started by finding a family seeking child care with sites like Care.com or Inter Exchange.
Median income: $14.52 per hour, according to PayScale, though bonus skills and overtime hours could net you much more.
10. Tutor
The spread on what tutors can charge is huge: On the high end, tutors who learn the ins and outs of exams like the SAT can charge hundreds of dollars an hour. If you've got a brainy background, those kinds of rates are hard to beat, even if might take you some time to string together the kinds of hours you want to work. Sites like Chegg, Wyzant and Varsity Tutors match tutors with people seeking study help, although you might be able to make more by striking out on your own.
Median income: $17.66 per hour, according to PayScale.
Best jobs if you hate sitting all day
Feel like slouching over a desk for most of your waking hours is no way to live life? Not only are desk jobs tedious, but they might even shorten your lifespan, according to some research. For a change, check out the active gigs below: They are challenging, but will provide you with excellent people skills — and maybe even tighter abs.
6. Food service
Lots of successful folks actually started their careers as fast-food workers, a job that keeps you active and on your feet — both literally and figuratively. And food service jobs are not all minimum wage. In-N-Out Burger pays employees more than $11 an hour, according to Glassdoor — one of the higher starting salaries in the business. Other fast-food chains are rolling out better perks as well: Shake Shack offers 401(k) matching to help workers build their retirement nest egg, and Starbucks offers tuition assistance to employees.
Plus, if you work in a city with high-end restaurants, being at the top of your game could net you about $75,000 as a waiter — or even $100,000.
Median income: $8.26 per hour for fast food, according to PayScale.
6. Retail
While prominent store closures for brands like Sears and Kmart have garnered headlines, other retailers are thriving. Indeed, with e-commerce making up just 8.3% of the retail market, the vast majority of shopping is still happening in stores, and many retailers are offering jobs that are above minimum wage.
Retail offers a lot of paths for advancement as well, with customer service representatives and managers generally making between $13 and $15 an hour, according to the Balance. The best retail jobs? Nordstrom, Costco and Tiffany & Co. all pay more than $12 an hour on average.
Median income: $10.10 per hour, according to PayScale.
Best jobs if you hate waking up early
Do you hit the snooze button every morning? Stop denying your nocturnal nature and embrace a job that will let you sleep in. The gigs below allow you to work at night — so you can stay in bed all day.
14. Bartender
As you might expect, bartenders often say the job can be physically demanding — but they also point out it's a lot of fun. Sure, your hours will also be concentrated on nights and weekends, which can make it hard to see your friends who work a normal 9-to-5. Yet there's a big benefit to paying your dues with weird hours: Bartenders at the highest-end bars report making north of six figures in only 30 hours a week, once you factor in tips.
Median income: $7.79 per hour, according to PayScale.
15. Casino dealer
Casino dealers also report having a lot of fun on the job, and the pay is relatively high — about $56,000 annually in 2017 dollars, according to figures adjusted for inflation from a 2007 New York Times investigation. Casino workers also usually get lots of breaks throughout the day, although there's a reason for this: Some games require dealers to perform hundreds or even thousands of addition problems in their head each hour. Be warned: Not all casinos provide free training to their dealers, so you may have to cover these costs upfront.
Median income: $8.35 per hour, according to PayScale.
Sign up for the Payoff — your weekly crash course on how to live your best financial life. Additionally, for all your burning money questions, check out Mic's credit, savings, career, investing and health care hubs for more information — that pays off.