'Hot Mic' podcast: Travel ban support, Iraqi ISIS offensive, CNN accused of blackmail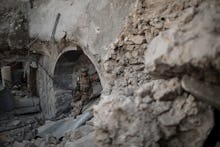 Listen and subscribe to the Hot Mic podcast from your mobile device:
Here are the important stories to get you caught up for Thursday, July 6:
1. A new poll from Politico shows nearly two-thirds of voters support President Donald Trump's travel ban.
2. The Iraqi fight against the Islamic State continues to advance, but roughly 300 ISIS fighters remain in Mosul.
3. CNN was accused of blackmail after it chose not to identify the Reddit user who created the now-infamous GIF of President Donald Trump body slamming a man with the network's logo for a head.
Direct from Mic's newsroom, Hot Mic keeps listeners informed with a daily run-down of top stories, breaking news and analysis from our news team.