Rep. Steve Scalise readmitted to ICU over "new concerns for infection"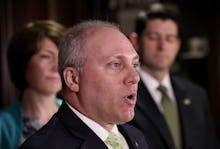 Rep. Steve Scalise, the Republican House majority whip injured in last month's shooting during practice for the Congressional Baseball Game, was admitted to the intensive care unit at MedStar Washington Hospital Center Wednesday night with an infection, according to a tweet from Scalise's official account. He is reportedly in serious condition.
Scalise was among the four people shot and injured when James T. Hodgkinson, a 66-year-old man from Illinois, opened fire on a June 14 practice for the annual charity game, which pits Democrats and Republicans against one another. Police shot Hodgkinson, formerly a volunteer with the Bernie Sanders campaign, and he died in custody.
Six other people were injured in the shooting, and four — two congressional staffers, an Alexandria, Virginia, police officer and Scalise — were from gunshot wounds. Scalise sustained an injury to his left hip that caused "severe bleeding," according to MedStar and arrived at the hospital in critical condition. He immediately underwent surgery and was eventually transferred out of the ICU on June 22.
Meanwhile, the Congressional Baseball Game went on as scheduled — with record attendance and goodwill on both sides of the aisle for Scalise's recovery.
More information on Scalise's condition is expected Thursday. Mic will update this post as more information becomes available.