Oklahoma Sen. Bryce Marlatt suspected of "forcefully" grabbing female Uber driver, kissing her neck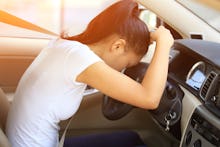 Oklahoma City police suspect state Sen. Bryce Marlatt forced himself on his female Uber driver during a June 26 trip, according to accounts from multiple news outlets.
Marlatt allegedly grabbed his driver "forcefully" and started kissing her neck as she drove him to an Oklahoma City hotel, according to local NBC affiliate KFOR News, which obtained a copy of the police report.
BuzzFeed corroborated KFOR's account, publishing a redacted copy of the same report that lays out the timeline: The driver picked up the handsy passenger around 10 p.m. local time. She was en route to deposit him at an Oklahoma City hotel when he began pawing at her. After reaching the destination just before 10:40 p.m., according to the report, the suspect had her drive to a local bar. She then did some digging, and matched the man who assaulted her to a picture of Marlatt she found on the internet. She went to the police on June 28.
Marlatt was not available for comment at time of writing, but in a statement, the rideshare company condemned the client's behavior.
"What's been reported is not tolerated and has no place on the Uber app," it read. "We are working with the Oklahoma City Police Department and will provide any information to them that would be helpful for their ongoing investigation."
Although Uber disavows sexual misconduct by drivers and passengers alike, it still seems to happen with fair frequency: As BuzzFeed reported in March 2016, the number of rape and sexual assault allegations Uber users have logged against the app are hazy. Searches for the terms within the company's internal data from 2012 to 2015, however, yielded driver and passenger complaints numbering in the single to triple digits. A quick Google search for "Uber sexual assault" turns up pages of hits on lawsuits, police reports and rider stories.
As for Marlatt, this wouldn't be his first run-in with the law. While police have neither arrested nor charged the Republican senator for the June 26 Uber incident, the Woodward County Sheriff did take him into custody in December 2014.
At the time, they charged a disheveled Marlatt with a misdemeanor for getting behind the wheel while intoxicated. Officers reportedly found Marlatt asleep in his truck, which was running, and had to knock three times on the window to awaken him from what appeared to be a chemically aided slumber. According to KOKH News, Marlatt denied heavy drinking — "no more than anyone else," was apparently how he put it when asked how much he'd had to drink — and alleged he'd mixed a single alcoholic beverage with a prescription sleeping pill. His arresting officers, however, maintained he smelled like booze when they found him. According to BuzzFeed, he pleaded no contest to the charge.
In this latest case, the Uber driver does reportedly plan to pursue a case against Marlatt, and Uber has agreed to furnish customer details to Oklahoma City police.
July 6, 2017, 12:42 p.m.: This article has been updated.