Trump still won't condemn Russia for meddling in the election, one day before his meeting with Putin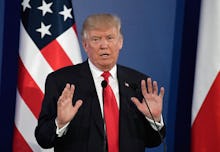 President Donald Trump still doesn't 100% accept the unanimous conclusion from the U.S. intelligence community that Russia meddled in the 2016 presidential election, saying their conclusions could be wrong and suggesting without any evidence that other countries may have been involved as well.
"Well, I think it was Russia, and I think it could have been other people in other countries," Trump said during a joint news conference in Poland with Polish President Andrzej Duda.
Trump went on to compare the intelligence community's findings that Russia interfered in the election under the direct orders of Russian President Vladimir Putin to the faulty findings on weapons of mass destruction in Iraq more than a decade ago.
"I remember when I was sitting back listening about Iraq, weapons of mass destruction, how everybody was 100% sure that Iraq had weapons of mass destruction," Trump said. "Guess what, that led to one big mess."
Trump went on to attack former President Barack Obama harder than Russia itself, not even mentioning Putin and his alleged involvement in ordering interference with the presidential election — a core tenet of American democracy.
"My big question is, why did Obama do nothing about it from August all the way until Nov. 8?" Trump said. "He did nothing about it and it wasn't because he choked."
Trump's continued refusal to condemn Russia for interfering in the election comes a day before Trump is scheduled to sit down with Putin in a bilateral meeting in Germany during the G20 Summit.
Trump aides are reportedly worried about the meeting, as it comes during an FBI investigation into the Trump campaign's alleged ties to Russia during the election.