What you need to know about Thursday's #StopTrumpcare sit-ins happening in your state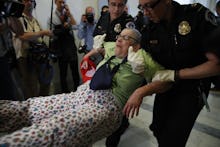 This is Mic's daily read on Donald Trump's America. Welcome to the political newsletter that wishes Rep. Scalise a speedy recovery.
Want to receive this as a daily email in your inbox? Subscribe here.
On Thursday, the vast majority of Americans who disapprove of the Republican health care bills will make their voices heard. Nine progressive organizations have banded together to hold #StopTrumpcare sit-ins in the offices of senators in 21 states. That includes sit-ins in the offices of Sens. Jeff Flake (R-Ariz.), Rob Portman (R-Ohio), Ron Johnson (R-Wis.), Susan Collins (R-Maine) and Lisa Murkowski (R-Alaska) — all Republicans who have not committed support to the Republican Senate health care bill.
The sit-ins come as a majority of Senate Republicans continue to actively avoid their constituents. According to Town Hall Project, 34 of the 52 GOP senators have not held a town hall in 2017. As of Thursday morning, only three Republican senators had town halls planned between Wednesday and Monday. The lack of access to elected officials has led voters to find more creative ways to get the attention of Republicans.
As the Senate debated health care in late June, protesters with disabilities stormed Senate Majority Leader Mitch McConnell's office in Washington. There are some early signs these sit-ins could be having the intended effect. Vox's Jeff Stein tweeted Wednesday night that after a 12-hour sit-in, protesters secured a 15-minute phone call with Flake to express their concerns.
The Bernie Sanders-backed Our Revolution has a list of Thursday's planned sit-ins here and an ActionNetwork.org petition about the sit-ins is here. Events highlighted by Our Revolution are featured below.
Today's question: Are you participating in a sit-in today to protest the Republican health care bill? Email / tweet me your pictures and videos of those protests and send your thoughts to trumpsamerica@mic.com.
We're seeking your support to expand our coverage of Donald Trump. As little as a $1 a month will give you access to an exclusive group to interact with Mic journalists and grow our reporting. Learn more here.
What we're watching:
Today: Progressive activists are holding sit-ins today to fight the Republican health care bills.
More: The president is not sure Russia was solely behind hacking to influence the U.S. election.
Even more: The United States is suggesting possible military action against North Korea.
Yes, more: Rep. Steve Scalise (R-La.) is back in the hospital.
Trump's agenda today: Met with the president of Poland. Spoke at the Three Seas Summit. Met with the president of Croatia. Addressed a crowd of people in Warsaw, Poland.
"Nobody really knows for sure"
At a press conference with Polish President Andrzej Duda, Trump told reporters "nobody really knows for sure" if Russia was solely behind the hacking that tried to influence the 2016 election. He also said, "I think it was Russia, and it could have been other people in other countries." Citing American intelligence's disastrous miscalculation about Iraq's weapons of mass destruction in 2003, Trump said the consensus view of the U.S. intelligence community that Russia was behind the hacking is not necessarily solid.
Trump avoided giving a straight yes-or-no answer a day ahead of his first meeting as president with Russian President Vladimir Putin. Trump has been preparing for that summit with tweet-length summaries of the key points he can use with Putin, the Los Angeles Times reported. The meeting will take place at the G20 Summit in Germany.
"I have some pretty severe things we're thinking about"
Also in Poland, Trump said the United States is considering "pretty severe" action against North Korea. North Korea tested an intercontinental ballistic missile earlier this week in a major advance of its nuclear missile program. At a United Nations meeting on Wednesday, U.S. Ambassador to the United Nations Nikki Haley said war with North Korea was a possibility.
News and insight you cannot miss:
Republicans are trying to make single-payer a 2018 campaign issue. Here's why that might backfire.
Democrats got absolutely roasted after asking people to vote on four bad sticker ideas.
Requests for voter information by Trump's voter fraud commission have been rejected by nearly all the states. But the president's commission may have submitted those requests illegally, meaning states do not have respond to them. Meanwhile, a member of that commission told Mic, "We should have predicted" the backlash to requests.
The White House's gender wage gap has doubled under Trump.
New York Times: How a "surgical strike" in North Korea could quickly turn to carnage.
Washington Post: Inside the growth of One America News and its promotion of Trump.