Someone spray painted anti-Semitic graffiti on this Phoenix Jewish family's mailbox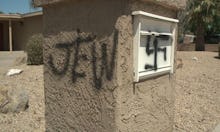 Ari and Shoshana Simones were coming home from their Fourth of July holiday vacation when they found a hateful symbol left on their mailbox: the swastika.
The Simones are a Jewish family living in Phoenix. The swastika and the word "JEW" was sprawled across the mailbox in black spray paint.
"I feel like an overwhelming feeling of sadness that people could still be this ignorant and hateful," she added.
According to 12 News, a Phoenix NBC affiliate, an unidentified neighbor posted a note of apology for the anti-Semitic vandalism.
"This morning around 10, I noticed graffiti on you[r] mailbox," the note read. "I am so sorry and disgusted by this."
The Simones are taken aback by the anti-Semitic incident targeting their home. Shoshana told 12 News she always believed the Jewish community was welcomed in her neighborhood and the greater Phoenix area. The Chabad Lubavitch Center, the Jewish synagogue the Simones attend every Saturday, is right around the corner from their house.
"Whoever did this, they don't know who we are and that we're good people," Shoshana said. "That they would try to hurt us or slur us is just ridiculous."
The Phoenix Police Department are currently investigating the anti-semitic incident as a hate crime. It did not respond to Mic's request for comment.
The vandalism incident targeting the Simones is a manifestation of a drastic spike in anti-semitic attacks across the country since the beginning of the new year. In April, the Anti-Defamation League reported an 86% increase in anti-semitic incidents and crimes within the first three months of 2017. The Jewish organization reported 541 anti-Semitic attacks, including threats, between January and March. In 2016, there were 291 anti-Semitic incidents reported within the same time period.
The ADL's Arizona chapter, according to 12 News, also reported a jump in anti-Semitic incidents in the new year. In 2015, the organization reported four anti-Semitic incidents, including vandalism, harassment and assault. In 2016, the number rose to 10. But so far in 2017, the chapter has recorded 14 anti-Semitic incidents.