Donald Trump says everyone "is getting very rich" while he's "picked up nothing" since being elected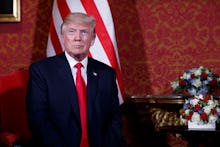 President Donald Trump simultaneously bragged about the United States economy and sort of complained that he wasn't personally benefitting from it during remarks in Poland Thursday.
"Personally, I've picked up nothing," Trump said in Warsaw. "That's alright. Everyone else is getting very rich. That's OK. I'm very happy."
It was the latest in a series of boasts about the state of the U.S. economy, which is maintaining the steady growth of the recovery but hasn't — and perhaps won't — achieve the 4% "Trump Bump" he promised upon taking office in January.
But it also appeared to be an attempt by the president to deflect criticism about his many unresolved conflicts of interest and concerns that he is profiting from his presidency.
Trump had said that he was putting his vast business empire under control of his sons, Eric and Donald Jr., and that "they're not gonna discuss it with me."
Trump was "completely isolating himself from his business interests," his lawyer said.
But a ProPublica report in April found that he could withdraw money and assets from his businesses at any time without publicly disclosing it, suggesting that Trump was not as isolated from his business interests — which have reportedly boomed during his time in office — as he previously claimed.
Questions have been raised about Trump potentially using his office to benefit his businesses, including his real estate holdings, his private resort and his golf courses.
"The stars have all aligned," Eric Trump told the New York Times as Trump National Golf Club in Virginia prepared to host the Senior PGA Championship over Memorial Day weekend. "I think our brand is the hottest it has ever been."